Uber Clampdown in Spain Hurts Refuge for Long-Term Unemployed
(Bloomberg) -- Spain's Socialist government's efforts to clampdown on the growth of car-hailing apps including Uber and Cabify threaten to hurt people it claims to want to help: middle-aged workers out of work for a long time.
Public Works Minister Jose Luis Abalos on Friday announced new rules requiring holders of licenses for car services such as Uber to seek another permit from local authorities for operating in urban areas. The aim is to address tensions between taxi and hailing-app drivers by putting rules for both on a similar footing, he said.
The tighter rules are Spain's salvo in a battle being fought in cities across the world between firms including San Francisco-based Uber and regulators over services that taxi companies say threaten their existence. Car companies using ride-hailing apps say the government is giving in to demands from taxi lobbies and hurting independent drivers, most of whom can't get back into the job market. This summer, cab drivers blockaded the streets of Madrid and Barcelona in a wave of protests against the spread of ride-hailing apps.
"It's crazy that parties such as Socialists, which have historically protected workers' rights, are now backing the taxi companies," Eduardo Martin, the head of Unauto, the biggest association representing ride-hailing services, said in an interview in Madrid. "The taxi industry is putting pressure on the government to eliminate a direct competitor."
Spanish taxi drivers have been furious at the surge in the number of cars operating with ride-hailing apps, which now serve 6 million customers in Spain.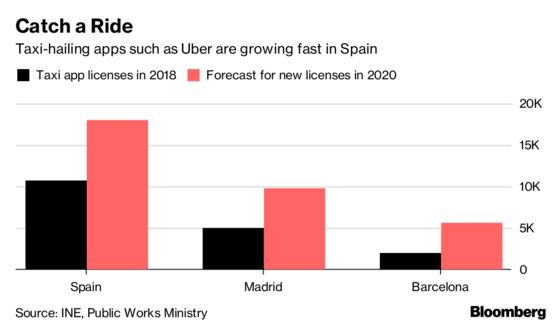 The number of taxi licenses has remained stable over the past two decades at about 70,000, according to AFI, a Madrid-based consulting company. Meanwhile, so-called VTC licenses for chauffeured cars using apps from companies like Uber is on course to rise to as many as 18,000 in about 2020 from about 11,000 now.
Many of those drivers are middle-aged people whose working lives were cut short by a five-year slump that drove the unemployment rate as high as 27 percent in 2013.
"The most frequent profile of the new employee is of the long-term unemployed aged more than 50 years old for whom this job represents a unique opportunity to rejoin the world of work," according to a report prepared for Unauto. More than a third of drivers of VTC cars are aged over 50, it said.
They are people like Armand Baquero, who started working as a VTC driver using the Cabify service in Barcelona last year after losing his job in 2011. He had worked as a consultant and at one point owned a business distributing air conditioning equipment.
"I lost my job, I had no financial stability and three kids to provide for," said Baquero, 59. "Becoming a driver changed all that. I have source of income, I can pay my bills and I'm in a better place emotionally."
To be sure, the drivers of traditional taxis also frame their dispute with the VTC drivers around the fight to preserve their own livelihoods.
Increasing use of smartphones and restrictions on personal car use are factors driving the growth in ride-hailing apps worldwide. In Madrid, there are about 3 VTC licenses per 1,000 inhabitants compared with 15 in New York so there's plenty of room for ride-hailing services to grow.
Adding to concerns for cab drivers are the significant investments many have made in buying taxi licenses on the secondary market. In Madrid, a cab license can change hands for more than 140,000 euros ($162,134) compared with 50,000 euros for a regional VTC license, according to AFI.
In a gesture to the drivers and owners of hailing-app vehicles, the government will allow a four-year transitional period for the tighter regulation to take effect. When that time is up, the cars will have to have the corresponding new permit to be able to drive in cities.
"The approval of the decree is a positive thing -- rules and laws aren't a bad thing," said Jesus Fernandez, the spokesman for Antaxi, a national association that claim to represent 40 percent of Spanish cabs. "Ride-hailing companies must be regulated if they intend to offer the same service as taxis."