Netanyahu's First UAE Trip Canceled as Jordan Spat Halts Flight
(Bloomberg) -- Israeli Prime Minister Benjamin Netanyahu canceled a first public visit to the United Arab Emirates since the two nations agreed a peace deal as his flight became entangled in a spat with Jordan.
Jordan hadn't authorized the flight path of Netanyahu's plane over its territory in time, the Israeli leader's office said in a statement Thursday. Amman apparently was piqued that its crown prince's proposed trip to the Al-Aqsa Mosque in Jerusalem was scrapped a day earlier after a dispute over security arrangements, it said.
Netanyahu's visit, which he could have used to try to burnish his image as a statesman ahead of Israel's March 23 election, had already been rescheduled several times. Early reports on Thursday put the latest delay down to Netanyahu's wife being hospitalized.
Jordan eventually authorized the flight, but too late for the trip to go ahead, Netanyahu's office said, adding it would take place later.
Despite the cancellation, the two countries started talks to establish a quarantine-free travel corridor and are looking at developing anti-drone equipment, statements from UAE state news agency WAM said, showing bilateral ties are stretching into the sensitive defense sector.
The UAE became the third Arab country to establish full diplomatic relations with Israel last year, in a deal that was backed by the then-Trump administration. The two sides share a desire to combat Iran's influence in the region, and have promised cooperation on investments and technology.
The two Middle Eastern nations, which have the world's fastest inoculation programs against Covid-19, aim to implement the travel agreement for people fully vaccinated in April, according to WAM.
The corridor will facilitate travel for commercial, tourism and official purposes, and might provide a model for countries looking to vaccines as a way to open up air travel all but grounded since the virus started to spread last year.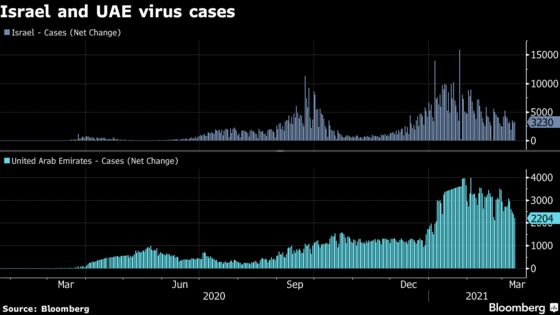 Separately Abu Dhabi-owned defense firm EDGE said it had entered into a pact with state-run Israel Aerospace Industries Ltd. to jointly develop an advanced system to counter drone aircraft using advanced 3D radar and communications intelligence.
Since signing their peace pact, Israel and the UAE have started direct flights and discussed business deals, and are discussing an oil pipeline linking the Red Sea with the Mediterranean.