Bonds Drop as Jumbo Creditors Yet to Be Paid: Evergrande Update
(Bloomberg) -- China Evergrande Group's dollar bonds fell after people familiar with the matter said some creditors had yet to receive repayment of a note they say is guaranteed by the developer.
Evergrande's bond due 2022 lost 0.8 cent to 23.5 cents on the dollar, Bloomberg-compiled prices showed Thursday. Nonpayment of the bond's principal may constitute a default as the note has no grace period, although five business days would be allowed if the failure to pay were due to an administrative or technical error. The bond was issued at an initial amount of $260 million by Jumbo Fortune Enterprises.
This week's surprise default by Fantasia Holdings Group Co. suggests the industry's fundraising difficulties may be "more severe than expected," analysts at Goldman Sachs Group Inc. warned. The missed payment is leading investors to question whether other developers are in similar positions, the analysts wrote in a note.
Chinese Estates Holdings Ltd. surged as much as 32% in Hong Kong after the billionaire Lau family offered to take their investment firm private. Chinese Estates are long-time backers of China Evergrande Group but have recently pared their stake. Shares of Chinese Estates had been halted since Sept. 29.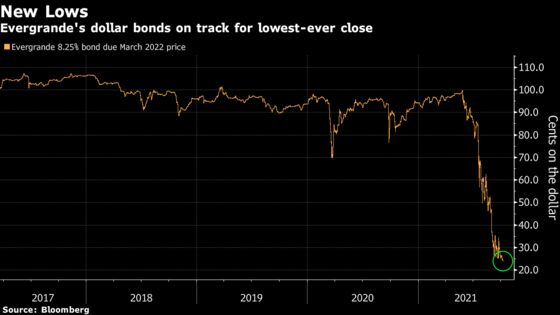 Holders of Evergrande-Linked Jumbo Fortune Bond Yet to Be Paid
Evergrande Backer Chinese Estates to Go Private After Plunge
Fantasia Opens a Pandora's Box for Evergrande: Shuli Ren
China High Yield Dollar Bonds Drop As Much As 5 Cents: Traders
A Surprise Default in China Worsens Evergrande Contagion Fears
Potential Evergrande Deal Threatens to Strain Finances at Hopson
CST Group Disposes of 32.18 Million Evergrande Vehicle Shares
China's Developers Priced for Meltdown as Contagion Risk Spreads
Chinese Property Developer Fantasia Misses Debt Payments
CST Sees 'Substantial Loss' on Evergrande Investments (5:39 a.m. NY)
CST expects the loss on investments in Evergrande's senior notes and Evergrande NEV shares in its interim results for the six months ended Sept. 30, according to Hong Kong stock exchange filing.
Mortgage-Backed Securities Are Shielded (2:53 p.m. HK)
Residential mortgage-backed securities in China rated by S&P Global Ratings won't be affected by the likely default of China Evergrande Group, the rating firm said in a statement. Rated deals are backed by existing homes, and therefore face no construction risk, S&P said.
Holders of Evergrande-Linked Jumbo Fortune Bond Yet to Be Paid (2:53 p.m. HK)
Failure to repay the Jumbo Fortune bond could be Evergrande's first major miss on maturing notes since regulators urged it to avoid a near-term default. The firm is a joint venture whose owners include Hengda Real Estate Group, Evergrande's main onshore unit. Details of the guarantees aren't broadly known as the note prospectus isn't publicly available and the deal wasn't listed on exchanges. 
Still No Disclosure (1 p.m. HK)
Evergrande had yet to disclose details of its "major transaction" as of 1 p.m. Thursday. That means the stock, and that of its property services unit, will remain suspended until at least Friday, according to Hong Kong exchange rules. But trading halts in Hong Kong can last weeks or even months, as there is no specific time limit set by the exchange.
Evergrande's shares last traded on Sept. 30. Hopson Development Holdings Ltd. plans to acquire a 51% stake in Evergrande Property Services Group Ltd., Chinese media platform Cailian reported earlier this week, citing unidentified people.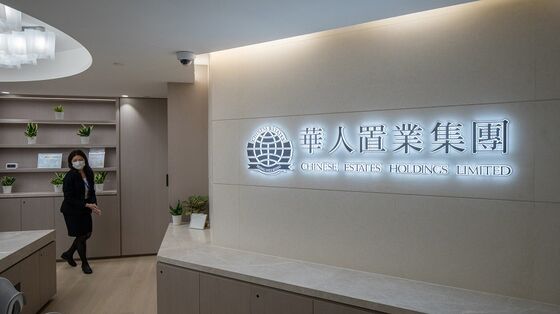 Goldman Warns on Funding After Fantasia Default (11:30 a.m. HK)
Developers' funding stresses may worsen further and refinancing concerns could become a broader issue as next year approaches, Goldman analysts led by Kenneth Ho wrote. Citigroup Inc. analysts agree, writing earlier this month that China's government is under pressure to address the credit crisis facing indebted developers before January, when bond repayments are set to spike.
Citigroup estimates 15 of the country's most stressed property developers will have $5.2 billion due at the beginning of the year. Most of those are principal payments on dollar bonds rather than interest or coupons, adding to the urgency. The total is more than double the amount due in October, a month that's already seeing companies struggle to make good on debt. 
Chinese Estates, Evergrande Units Rise (9:30 a.m. HK)
Shares of Chinese Estates rose to as high as HK$3.84 apiece, below the take-private offer price of HK$4. The family of billionaire Joseph Lau -- a long-time backer of Evergrande -- offered to buy the 25% stake it doesn't already own in Chinese Estates. The stock recently plunged to an 18-year low. 
China Evergrande New Energy Vehicle Group Ltd., the volatile electric-vehicle unit majority owned by Evergrande, rose as much as 17% Thursday. HengTen Networks Group Ltd., in which Evergrande owns a 26.55% stake, added as much as 11%.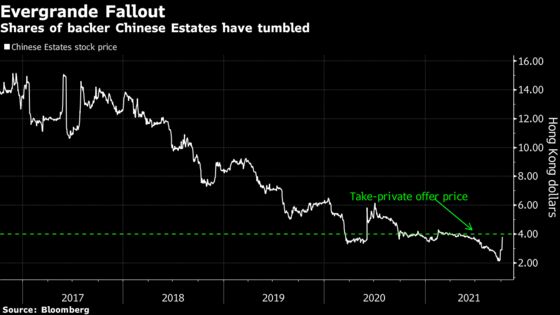 Southbound Buying of Evergrande (6 a.m. HK)
Mainland-based investors have been buying shares of Chinese real estate firms in Hong Kong through exchange links, according to Bloomberg Intelligence, with Evergrande and its property services unit topping inflows before their suspension. The southbound connect reopens Friday after a week-long holiday in China.
"The southbound buying may be driven by bargain hunting and hope that developers' debt crises will be resolved in an orderly manner," according to Bloomberg Intelligence analyst Marvin Chen. Chinese investors purchased more than 300 million shares in Evergrande and its property services arm.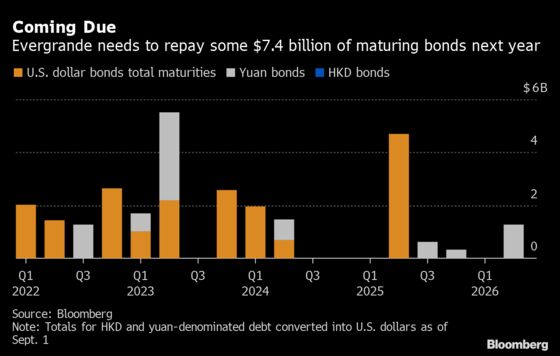 Evergrande dollar bond interest deadlines:
Dollar bonds 
Coupon due date

Amount

(million dollars)

EVERRE 8.25% due 2022
Sept. 23
83.53
EVERRE 9.5% due 2024
Sept. 29
45.17
EVERRE 9.5% due 2022
Oct. 11
68.88
EVERRE 10% due 2023
Oct. 11
42.5
EVERRE 10.5% due 2024
Oct. 11
36.75