U.S. Treasury Sanctions Venezuela Oil Chief Quevedo, Four Others
(Bloomberg) -- The U.S. Treasury Department sanctioned Venezuelan Oil Minister Manuel Quevedo, who also serves as the head of its state-owned oil giant, PDVSA, and four other officials for their ties to President Nicolas Maduro.
Quevedo was sanctioned for his role with PDVSA, which is the Maduro regime's primary source of income. Treasury also sanctioned officials leading Venezuela's intelligence and security service for using torture and other methods to "systematically" violate human rights.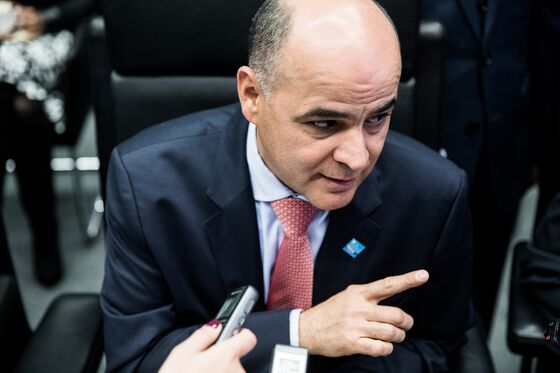 "We are intent on going after those facilitating Maduro's corruption and predation, including by sanctioning the President of PDVSA and others diverting assets that rightfully belong to the people of Venezuela," Treasury Secretary Steven Mnuchin said in a statement released Friday.
A former National Guard official, Quevedo was appointed oil minister and PDVSA head by Maduro in 2017. Three years earlier he led a military response to public protests that resulted in more than 40 deaths and thousands of arrests.
At a recent surprise appearance at an energy event in India, Quevedo said his nation wants to sell more crude to India, and that U.S. measures have resulted in a $20 billion loss to Venezuela's economy.
Treasury also sanctioned the heads of Venezuela's most feared security forces including the intelligence police chief, Manuel Figuera, and his deputy, military-counter intelligence Commander Ivan Hernandez, and the director of the national police's special action forces, Rafael Bastardo.
Both intelligence forces are accused of myriad rights abuses -- including torture -- against civilians and soldiers alike, while the special actions forces, or FAES, is accused of carrying out numerous extrajudicial killings since protests kicked off last month.