U.S. Calls Effort to Halt Nord Stream 2 Pipeline a Long Shot
(Bloomberg) -- The Biden administration said stopping Nord Stream 2 is a long shot now that the gas pipeline from Russia to Germany is more than 90% complete, a shift in tone that came as the U.S. held off on sanctioning the company overseeing its construction.
In a report to Congress on Wednesday, the State Department said that Nord Stream 2 AG and its chief executive Matthias Warnig are engaged in sanctionable activity under U.S. law but that the administration will waive penalties for national security reasons.
An administration official who briefed reporters said the chances of stopping the pipeline's completion are increasingly remote and suggested that President Joe Biden wants to avoid a confrontation with Germany and other European Union allies that back the project.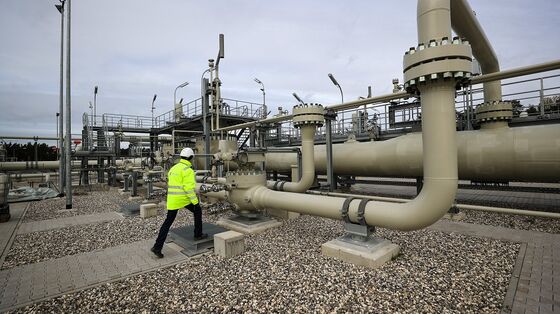 The official said that waiving the sanctions will give time for further discussions and that the U.S. hopes Germany will address its concerns that the pipeline is a boon to Russia and undermines European energy security.
Keeping the sanctions "would negatively impact U.S. relations with Germany, the EU, and other European allies and partners," the administration said in the report to Congress. The administration added that close cooperation with those allies is needed to fight the Covid-19 pandemic and "counter malign behavior by Russia and China" and Iran.
"Our opposition to the Nord Stream 2 pipeline is unwavering," Secretary of State Antony Blinken said in a statement Wednesday. "Though we may not always agree, our alliances remain strong, and our position is in line with our commitment to strengthen our Transatlantic relationships as a matter of national security."
The U.S. decision to waive some Nord Stream 2 sanctions "is a constructive step," German Foreign Minister Heiko Maas said Wednesday in Berlin. Germany will continue the talks with the U.S. "as constructively as possible" to try and alleviate concerns over the project, he told reporters in Berlin.
Four vessels were sanctioned by the U.S. in the latest round of penalties over the pipeline, along with entities including the Russian government-owned Marine Rescue Service.
But it's the reprieve on sanctions for Nord Stream 2 and Warnig, a German citizen, that really matter. The waiver avoids escalating a confrontation with Chancellor Angela Merkel's government and is in keeping with Biden's goal of working closely with allies despite their disagreements.
It also came shortly before Blinken was set to meet Russian Foreign Minister Sergei Lavrov on the sidelines of an Arctic Council meeting in Iceland as the two sides prepare for a summit in the coming weeks between Biden and Russian President Vladimir Putin.
The latest moves angered members of Congress in both parties who want to see the pipeline stopped. They argue it makes European nations more dependent on Russia and rewards Putin at the expense of national security concerns.
"The administration's decision to waive the sanctions they placed on Nord Stream 2 AG and the company's CEO Matthias Warnig citing U.S. national interests is just wrong," Senator James Risch of Idaho, the top Republican on the Senate Foreign Relations Committee, said in a statement.
"Completion of this pipeline poses a threat to U.S. security interests and the stability of our partners in the region," Democratic Senator Jeanne Shaheen of New Hampshire said in a statement. "The administration should uphold its commitment to Congress. Every option available to prevent its completion should be utilized."
Nord Stream 2's spokeswoman didn't want to comment on any potential impacts of U.S. sanction actions on the project. The gas link may be completed already this year, Russia's Energy Minister Nikolay Shulginov said in an interview with the ministry's in-house magazine last week. Only 80 kilometers of the twin pipeline remain to be laid, Interfax reported earlier this week citing Mathias Kruse, Germany's Consul General in Russia's Yekaterinburg.
As of the end of March, 95% of the pipeline was complete, according to the company behind the project. At this time, about 121 kilometres were to be laid -- 93 kilometres in Danish waters and about 28 kilometres in German waters.
Reports that the sanctions were being waived were greeted with relief in Russia, where shares of Gazprom PJSC have risen 4% this week. Analysts at BCS Global Markets said a softer U.S. stance on Nord Stream 2 is positive for the stock. The shares were little changed in Moscow Thursday.
Construction on the pipeline began in 2018 and it became a major source of friction between the U.S. and its European allies, particularly Germany, during former President Donald Trump's administration. Biden has essentially taken the same position as Trump: that the project undermines European security by tying the continent more closely to Moscow.
But Biden also is also wary of punishing allies like Germany over the issue, part of a broader attempt to overhaul how the U.S. conducts diplomacy and heal some of the rifts with other nations created by Trump's "America First" approach to foreign policy. U.S. officials have also argued their options were extremely limited given that the pipeline was advanced when Biden came into office.
"It is a good moment not only for Nord Stream 2, but also for the U.S.-Germany and the U.S.-Russia relationship," said Katja Yafimava, senior research fellow at the Oxford Institute for Energy Studies. "Sanctioning NS2 would not stop the project but it would further increase the U.S. tensions with Russia, at the time when both countries appear to be looking at least to prevent their relationship from further deterioration."
The administration has come under pressure from lawmakers of both parties to block Moscow-based Gazprom's project after a congressionally-mandated report released in February named only one vessel -- the Russian-flagged Fortuna -- as subject to sanctions.
Advocates for taking action in Congress argue that U.S. law requires sanctions against any foreign entity if it assisted in construction of the pipeline. They also say that while the U.S. may be seeking to ease strains with Germany, it risks alienating other allies such as Ukraine, Poland and the Baltic states.
The 1,230-kilometer (764-mile) pipeline will help Germany secure a relatively low-cost supply of gas amid falling European production. It's also part of Gazprom's decades-long effort to diversify its export options to Europe as the region moves away from nuclear energy and coal.