U.S. `Takes Grenade Off the Table' With Tweak to Rusal Sanctions
(Bloomberg) -- The U.S. has laid the groundwork to avoid a brewing crisis in the global aluminum market.
By making a technical tweak to sanctions on United Co. Rusal on Friday, the U.S. Treasury handed a potential lifeline to buyers of aluminum whose annual contracts with the Russian company are soon due to expire. That makes it less likely there will be a repeat of the chaos that gripped the aluminum market in April when the curbs were first imposed.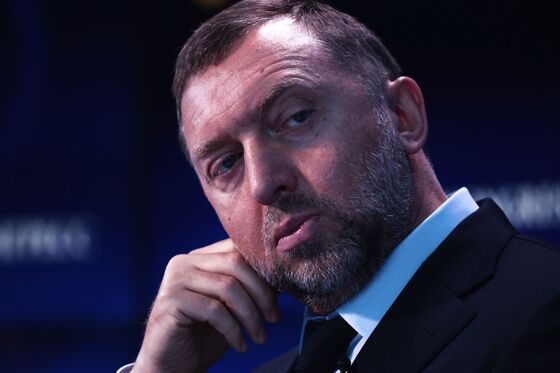 Crucially, the U.S. said that Rusal's existing customers could negotiate some new contracts, but stopped short of lifting the aggressive sanctions off Oleg Deripaska, the Russian billionaire who has been accused by the U.S. of links to organized crime and bribery.
"Particularly in alumina where you could have had a major crisis, this takes the grenade off the table," said Eoin Dinsmore, an aluminum specialist at consultancy CRU Group.
While the tweak shows the Treasury is responding to the aluminum industry's concerns, it will still require further action by the U.S. to avert turmoil: without an extension of the Oct. 23 deadline, companies will have to stop all dealings with Rusal by that date.
The situation is especially important now because it's the time of year when aluminum makers are signing annual contracts. When the European aluminum industry met in Berlin last week, Rusal was largely frozen out of the contract negotiations. The move may also help reassure buyers of alumina, used to make aluminum, that Rusal's crucial refinery in Ireland will be able to keep operating.
The move is "a proxy of an almost-full removal of sanctions," industry researcher Harbor Intelligence said in a note to clients.
Rusal shares climbed as much as 7.7 percent on Tuesday, after surging 15 percent to a three-month high in Moscow on Monday.
The Treasury's clarification only goes some way to removing the risks hanging over the aluminum industry. Banks are still likely to be cautious about financing deals with Rusal, meaning that it may take time to sign new contracts, according to two people familiar with the discussions.
"This update just gives Rusal's clients the opportunity to sign deals with the company before any decision on sanctions is taken," Andrey Panov, senior associate at law firm Norton Rose Fulbright in Moscow, said by phone.
What's more, the Treasury warned Rusal customers off stockpiling the Russian company's metal, saying that would only be authorized if it was "consistent with past practice."
Overall, the move is likely to be more beneficial to buyers of Rusal's metal than to the company itself and its controlling shareholder Oleg Deripaska.
While buyers of some aluminum products have few alternatives to Rusal, others may have already locked in other supplies, according to Dinsmore of CRU Group. As a result, he estimates that Rusal's international sales may fall by 500,000 to 800,000 metric tons next year. Those sales traditionally accounted for more than three-quarters of the company's total production, which was 3.7 million tons last year.
Those companies that continue buying from Rusal will also be handed greater bargaining power as a result of the Treasury's condition that new deals be "consistent" with past dealings. That gives the Russian company little choice but to strike deals with its existing customers, including Glencore Plc, the largest buyer of Rusal's metal under a multi-year arrangement that was worth $2.4 billion in 2017.
That caveat that new business must be consistent with past practice is "going to likely have a chilling effect", said Brian O'Toole, a senior fellow at the Atlantic Council who previously worked in the Treasury's sanctions unit.
The move may also disappoint Deripaska. Rusal's holding company En+ Group Plc has been in discussions with the Treasury for months over a deal to lift sanctions altogether if Deripaska loosens his control over the company.
The aluminum group sees Friday's move as an indication that the Treasury is more likely to extend the wind-down period beyond Oct. 23 than to lift sanctions entirely, according to people familiar with its thinking, who asked not be be name because the matter is private. Rusal representatives at an industry conference in Berlin last week asked customers if they could delay signing new supply contracts until after the U.S. mid-term elections in November.
It would "be a little odd" for the Treasury to take this action and then turn around next week and lift all sanctions against Rusal, said O'Toole. "It suggests this will drag on."