U.S. Sues to Block Illumina Deal for Bezos-Backed Grail
(Bloomberg) -- U.S. antitrust enforcers sued to block genetic-sequencing giant Illumina Inc.'s $7 billion acquisition of Grail Inc., a cancer-test startup backed by Jeff Bezos and Bill Gates.
The Federal Trade Commission said Tuesday the deal will diminish innovation in early cancer detection tests in the U.S. and make them more expensive.
Illumina erased an earlier gain on the news, tumbling 6.6% in its biggest retreat since October.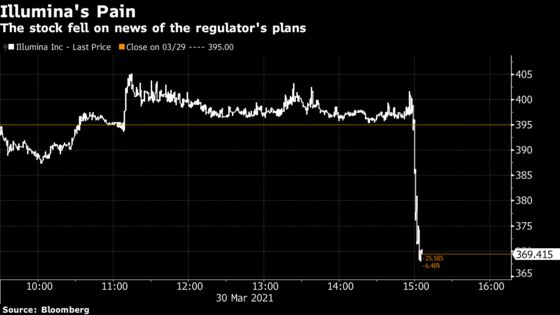 Grail was founded by Illumina, whose scientists discovered that signs of cancer were detectable in maternal blood samples. Known as "liquid biopsies," such tests are a long-sought goal in the world of biomedical research, but developing them is complicated. Tests must look for many markers different markers that may signal different types of tumors, and also successfully avoid false positives.
Grail was later spun out as a standalone company. Illumina holds about 12% of Grail's shares on a fully diluted basis, according to a statement from the companies issued when the deal was announced in September.
Illumina said in a statement that it will fight the FTC's case, saying that Grail will accelerate the adoption of a "breakthrough" blood test.
"Combining Grail's innovative multi-cancer early detection test with Illumina's experience and scale will enable more patients in both the United States and worldwide to garner access to Grail's test faster," Grail Chief Executive Officer Hans Bishop said in the statement.
Illumina is a giant in the DNA sequencing space, serving as both the backbone for consumer genetics tests and an integral part of pharmaceutical research efforts. In 2019, the FTC sued to block Illumina's takeover of Pacific Biosciences of California Inc. The companies abandoned the deal.
While Illumina noted that it expects to challenge the FTC's decision, "the track record doesn't bode well, and we don't see any easy fixes," Vijay Kumar, an Evercore ISI analyst, said in a note to clients.
The FTC said in its statement about the case that if the deal proceeds, Illumina can raise prices charged to Grail's competitors for DNA sequencing instruments and impede their research and development efforts.
The FTC voted 4-0 to seek to block the deal. The agency filed a complaint in its administrative in-house court and will filed a complaint in federal court.