Some U.S. States Say Feds Cutting Vaccine Allocations by 40%
(Bloomberg) -- A rift opened between state and federal officials over Covid-19 vaccine allocations on Friday, adding another layer of complication to the early stages of the U.S. immunization effort.
Several U.S. states including New Jersey, California, Oregon, Nevada, and Washington state said the federal government has cut their expected allotments of the Pfizer Inc.-BioNTech SE vaccine for next week by about 40% without explanation. The Health and Human Services Department disputed that cuts had been made.
There was confusion between numbers that states were given earlier, which were for training and planning purposes only, and the official allocations provided this week, an HHS spokeswoman said in an email Friday afternoon. The department is working on clearing up the misunderstanding, according to the spokeswoman, who asked not to be named.
The conflict added to uncertainty for states and hospital systems administering the first doses and planning for more in the weeks ahead. New Jersey, for instance, expects 53,625 doses of the Pfizer shot next week, about 38% less than it had planned for, Health Commissioner Judith Persichilli said.
"I don't think we've got a satisfactory reason why" the state would receive fewer shots than it expected, New Jersey Governor Phil Murphy said in a briefing Friday. Murphy said he spoke to senior Pfizer executives Thursday about the shortfall. The company's response, according to Murphy: "We want you to know, this is not us."
California Governor Gavin Newsom said the state learned from the U.S. Centers for Disease Control and Prevention on Thursday that it would receive about 40% fewer vaccine doses than expected in its second allocation from Pfizer: 233,025 starting next week, rather than 393,000. California received 327,600 doses from the company this week.
"We talked to Pfizer ourselves directly," Newsom said Friday, in a coronavirus update posted online. "They claim they have more vaccines but are not getting the authorization from the federal government for the distribution, so that's been a point of frustration -- friction, to be candid with you. It's been expressed by many, many governors all across the country, regardless of even political party."
Newsom said he had pressed federal officials for an explanation and would update the public when the state receives an answer.
Several other Democratic governors blamed federal officials for the confusion.
"To slash allocations for states -- without any explanation whatsoever -- is disruptive and baffling," Nevada Governor Steve Sisolak said Thursday in a statement. The state now expects 17,550 doses, compared with 30,255 originally anticipated.
Oregon's allotment of Pfizer doses for next week was cut by 40%, Governor Kate Brown said in a tweet Thursday evening. Washington state had been expecting more than 74,000 doses of the shot for next week, but was informed by Operation Warp Speed, the U.S. vaccine-development program, that just 44,850 were coming.
"This was a federal decision," Brown wrote about her state's cut in a separate tweet. She said she's seeking answers from the CDC "about the reliability of the data we are receiving from week-to-week as Oregon builds our vaccine distribution plan."
Operation Warp Speed has said 2 million doses of Pfizer's shot will go out next week, down from 2.9 million shipped this week. A second vaccine developed by Moderna Inc. was recommended by advisers to the Food and Drug Administration Thursday. Officials said this week that 5.9 million doses of the Moderna shot could be allocated next week if, as expected, the FDA quickly authorizes emergency use of the vaccine.
The federal government is coordinating the production and initial shipment of coronavirus vaccines. The first supplies are being divvied up among states in proportion to their share of the adult population, Operation Warp Speed officials have said. States will then decide who to vaccinate when, following broad guidelines set by independent advisers to the CDC.
That effort is expected to grow in scale and complexity in the weeks ahead.
Immunization program managers in states and other health jurisdictions are wondering when production will expand, said Claire Hannan, executive director of the Association of Immunization Managers, a professional group for state vaccine program leaders.
"They're still getting these smaller allocations," Hannan said. "At some point we expect allocation to be higher and ramp up. People are trying to figure out when that is coming because they need to be ready."
Likewise hospitals must adapt to the changing expectations.
"All of us thought, 'great, we kind of know what we're getting,'" said Hilary Babcock, an infectious disease specialist with Washington University and BJC HealthCare in St. Louis. "And now we've all heard just through the news that in fact most states will be getting less than they expected."
Hospitals must schedule appointments with workers eligible for vaccination and prepare staff to deliver the shots, she said. It's harder to do without knowing how many doses are coming. "There's still a lot that's very unpredictable," Babcock said, while noting that she's excited to have a vaccine at all.
Before the Pfizer vaccine began rolling out this week, states reported widespread confusion and frequently changing estimates for how many doses they should expect.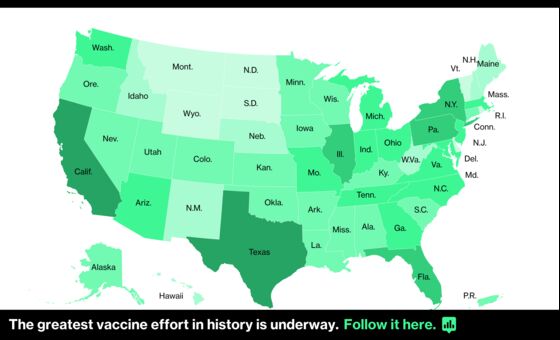 For weeks, Colorado had been planning on 56,550 doses of Pfizer's shot for the week ahead. This week, the state learned that Operation Warp Speed leaders "made a decision that changes what we had expected to receive," Conor Cahill, a spokesman for Governor Jared Polis, said in an email. The amount will be 39,780.
Maine saw its allotment of Pfizer shots reduced by 40%, according to the state's Department of Health and Human Services.
The Iowa Department of Public Health announced Thursday it will receive about 20% fewer Covid-19 vaccine doses than originally anticipated. The department said Dec. 3 that it anticipated receiving 95,000 doses of the Pfizer vaccine, but on Thursday scaled that back to 65,000. The state anticipated receiving 77,000 doses of a second vaccination developed by Moderna Inc. by Dec. 31, but now anticipates receiving 73,300.
"It's a little frustrating because they're trying to plan," said Marcus Plescia, chief medical officer for the Association of State and Territorial Health Officials, the professional group for state public health leaders. He said some supply hiccups are understandable given the complexity involved, but added that the government should be more transparent.