U.S. Services Index Shows Biggest Part of Economy Stirring
(Bloomberg) -- U.S. service providers started to emerge in May from a pandemic-induced tailspin as nationwide lockdowns on business and social interaction began to lift.
The Institute for Supply Management said Wednesday that its non-manufacturing index rose 3.6 points to 45.4. While the monthly increase was the largest in more than two years, the gauge remained below the 50 mark that shows most service-related industries continued to contract.
The purchasing managers group's gauge of business activity, which parallels the ISM's factory production index, jumped 15 points, the most in records dating back to 1997, to a still-tepid 41. Along with an improvement in new orders, the figures are a welcome sign that the economy is stabilizing and will gradually recover from a deep recession.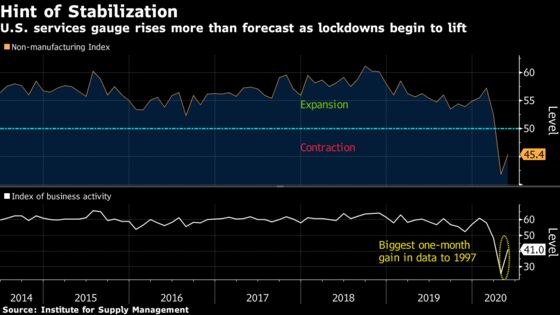 "Respondents remain concerned about the ongoing impact of the coronavirus," Anthony Nieves, chair of the ISM's non-manufacturing business survey committee, said in a statement. "Additionally, many of the respondents' respective companies are hoping and/or planning for a resumption of business."
The median forecast in a Bloomberg survey of economists called for an improvement to 44.4 in the overall non-manufacturing index. Just four industries reported growth in in May, led by farming and finance.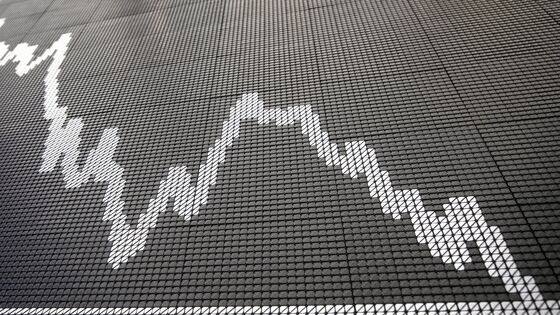 The report, however, also showed the labor market remains severely disrupted by the pandemic. The ISM measure of employment at services, which represent almost 90% of the economy, only rose 1.8 points from the worst reading on record in April.
A Labor Department report on Friday is projected to show another 8 million decline in May payrolls after an unprecedented 20.5 million slump in April. The unemployment rate is forecast to soar to nearly 20%.
A pickup in demand as states lift lockdowns and businesses begin to reopen is needed to help stabilize the job market. The ISM's report showed an index orders at service providers climbed 9 points to a still-weak 41.9.
Meanwhile, the index of supplier deliveries in non-manufacturing industries fell for the first time in four months, indicating an easing in supply-chain bottlenecks and transportation delays.