U.S. Services Gauge Advances to Record as Activity Strengthens
(Bloomberg) -- U.S. service providers expanded at a record pace in October, powered by resilient demand and stronger business activity as the impact of the delta variant faded.
The Institute for Supply Management's services index advanced to 66.7 last month, exceeding all projections, from 61.9 in September, data showed Wednesday. Readings above 50 signal growth.
The gauges of new orders and business activity also increased to the highest in data back to 1997, indicating the economy picked up steam at the start of the fourth quarter.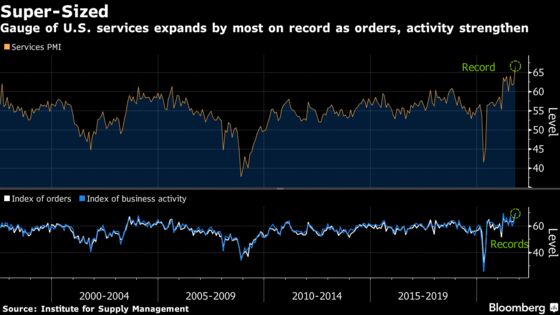 Steadfast household and business demand also suggests little respite for still-stressed supply chains that are contributing to higher inflation. The group's measure of backlogs also rose to a record last month.
"Demand shows no signs of slowing," Anthony Nieves, chair of the ISM services business survey committee, said in a statement. "However, ongoing challenges -- including supply chain disruptions and shortages of labor and materials -- are constraining capacity and impacting overall business conditions."
The ISM's measure of prices paid by service providers for materials and services increased to the highest level since September 2005. An index of supplier delivery times climbed to the second highest on record, indicating extended delays and lingering capacity constraints.
Nieves said on a call with reporters that companies are also pulling forward orders because of "the supply chain disruption and the longer lead time."
All 18 services industries reported growth last month, led by retail trade, transportation and warehousing, and real estate. Stocks fell from all-time highs and Treasury securities fluctuated before the conclusion of the Federal Reserve's meeting on monetary policy. 
Meantime, a decline in the group's measure of employment shows labor market challenges persist. The index slipped to a four-month low of 51.6 in October, indicating more moderate job growth even as demand remained buoyant.
Separate figures earlier from ADP Research Institute showed private industry payrolls climbed a larger-than-projected 571,000 in October, though the level of employment remains well below pre-pandemic levels.
A difficult hiring environment and ongoing logistics challenges are depleting stockpiles. A gauge of inventories dropped to its lowest point since March of last year. What's more, the ISM's inventory sentiment gauge dropped to the second lowest on record, suggesting respondents view their existing supplies and materials as too lean.
Select ISM Industry Comments

"Manufacturers are failing to keep up with orders, and backlogs continue to grow. We've seen proposed pricing increases of more than 20 percent in areas of equipment manufacturing. This is extremely concerning." - Accommodation & Food Services

"Supply chain disruptions continue to roil new residential construction. Material and skilled labor shortages are lengthening cycle times." - Construction

"Staffing continues to be a challenge and is driving significant cost overruns." - Health Care

"Everything — from sales demand to orders to manufacturers, domestic and international — is ramping up. The international freight crisis is a critical problem, from capacity to transit times with port delays and costs now reaching three times pre-pandemic levels." - Information

"While new opportunities continue to present themselves, we are turning work away due to delayed shipments from suppliers and the general lack of new workers." - Company Management & Support

"We still have very strong business activity throughout our business channels. This is despite a very challenging business environment of increasing costs, a very difficult employee retention and hiring environment, and massive logistical backlogs." - Wholesale Trade
The report, which covers the industries that make up almost 90% of the economy, follows data out on Monday that showed manufacturers continue to struggle with many of the same supply constraints as service providers.