Danske U.S. Scrutiny Changes Everything for Investors
(Bloomberg) -- The Estonian laundromat scandal has been on Danske Bank A/S investors' radar for more than a year. But last week, everything changed.
News of a U.S. Department of Justice investigation has caused panic. The bank's shares were dumped and some bondholders are even wondering whether Danske might start having trouble making interest payments on its riskiest debt.
At Swedish hedge fund Trude, asset manager Anders Nordborg says he's dropping holdings in Danske's euro-denominated contingent convertible note, or CoCo, after learning of the U.S. probe.
"We weren't very worried after our initial assessment, as it showed that Danske Bank would still be able to make good on its coupons" provided a potential fine didn't exceed about 8 billion kronor, or roughly $880 million, he said. But now, "there is no limit to the size of a possible claim from the Department of Justice."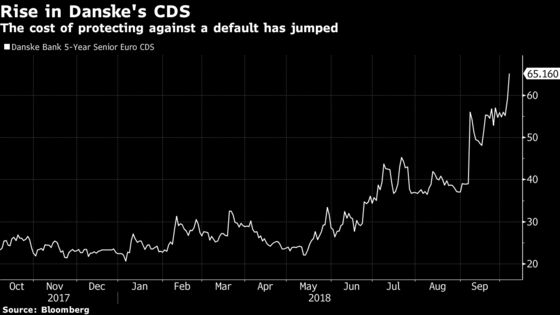 The scale of the bank's Estonian money laundering scandal has shocked the world. Over a nine-year period, about $235 billion flowed through a tiny unit in the Baltic country, much of it suspicious, Danske said last month. Besides the U.S. probe, Danske is being investigated in Denmark, Estonia, Switzerland and the U.K. Separate investigations will examine the extent to which the bank's regulators and auditors acted appropriately.
Danske may now be facing fines well in excess of $1 billion, according to numerous analysts tracking the bank. But that figure could be as high as $7.7 billion now that U.S. authorities have entered the scene, according to Simon Hagbart Madsen, an analyst at Jyske Bank.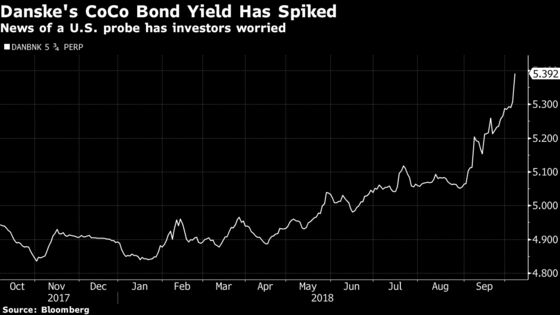 Yields on some of Danske's CoCo bonds soared to a record last week, reflecting investor fears. But holders of less risky debt instruments also reacted. The spread on Danske's senior non-preferred bonds widened as much as 12 basis points at the end of last week. Creditors now demand more than 40 basis points extra to hold Danske instruments, compared with peers, according to the bank's own estimates.
Danske shareholders last week suffered their worst losses since August 2011, with the stock dropping 12 percent. The bank's market value has plunged almost 40 percent this year, putting it neck and neck with Deutsche Bank AG for the title of Europe's worst financial stock of 2018.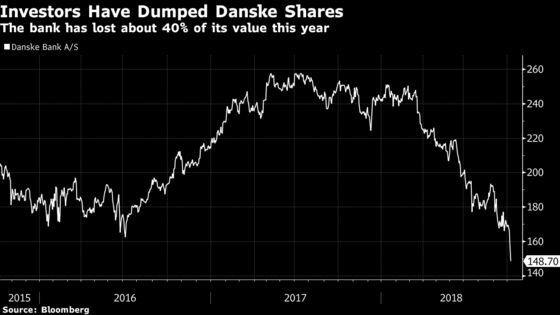 Danske says it's cooperating with all the relevant authorities and that it doesn't expect the U.S. to cut it off from the country's financial system, a penalty that would severely cripple the bank.
"I don't see a risk of that," interim Chief Financial Officer Morten Mosegaard said in an interview.
Danske can still clear dollar transactions with correspondent banks and tap funding markets, including in the U.S., albeit at a higher cost, Mosegaard said. "I don't really see a risk to our funding at all at this point in time, even though we may have to pay a little bit more for it."
The bank hasn't set aside provisions to cover potential fines, but it's taking a much more cautious approach in its capital planning, he said. It shelved its 2018 share buyback program, and has been ordered by the financial regulator to add about $1.5 billion to its capital buffers in response to the money laundering allegations.
Mosegaard says Danske plans to reinstate a policy of returning profits to investors through share buybacks as soon as possible.
"As we see it, we've been growing steadily and we have a high customer satisfaction compared to where we were many years ago, so from that perspective, I think we have a fairly solid position," he said.
While many investors are bracing themselves for worst-case scenarios, Mosegaard cautioned against rushing to conclusions.
"What that could end up with is at this point anybody's guess, so it's much too early to speculate on anything concrete," he said.