U.S., Russia Clash on Syria as UN Urged to Back Rival Plans
(Bloomberg) -- With the military front lines frozen for now, the battle for Syria's future shifted to the United Nations as the U.S. and Russia clashed over postwar plans and sought the world body's approval.
The dispute took center stage on Wednesday at a meeting of foreign ministers and top officials in New York, where the UN is holding its annual gathering of world leaders. Russia is pushing the UN to help find funds for rebuilding Syria, while the U.S. insists it should be overseeing a political transition away from Bashar al-Assad's rule.
"Syria will need reconstruction funding ," James Jeffrey, the U.S. special envoy for the country, told the meeting. "But the Assad regime should get no help to rebuild Syria until it is on a path of genuine political reform."
Tensions have already flared over Syria this week. U.S. President Donald Trump, addressing the UN General Assembly on Tuesday, repeated his threat to attack the Syrian army if it uses chemical weapons again, and called for a political solution that "honors the will of the Syrian people.'' U.S. officials slammed Russia's plan to deliver advanced S-300 air-defense systems to Syria.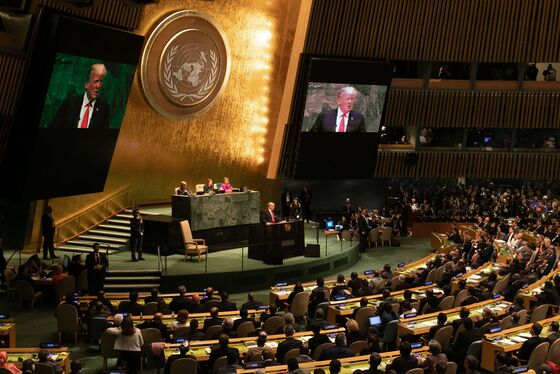 Assad's government, backed by Russia and Iran, has regained control of much of the country after more than seven years of civil war. But the military advance may have reached its limits, leaving the next phase to diplomats.
Assad suffered a rare reverse this month when Russia backed down from an offensive to recapture the northwestern province of Idlib, the last major outpost held by mostly Islamist opposition fighters. Turkey, which has soldiers in Idlib, objected to the plan. A further quarter of the country is held by Kurdish forces and there are U.S. troops embedded with them, making it another no-go zone for Assad.
The U.S. and its European Union and Gulf allies are still nominally seeking Assad's departure, and rejecting Russian appeals to help with reconstruction until an agreement on power-sharing in Syria. The UN says that rebuilding Syria could cost $250 billion.
Like the U.S., the EU has ruled out helping to rebuild Assad-controlled Syria in the absence of talks on political change. The bloc's foreign policy chief Federica Mogherini called on Wednesday for "meaningful political negotiations" under UN auspices that lead to "a united, democratic and inclusive Syria."
Russia has angrily condemned Western conditions for aid as "unacceptable.'' Russian Deputy Foreign Minister Sergei Vershinin warned the U.S. on Wednesday to stop its "dangerous provocations" by repeatedly threatening to use force in the event of an onslaught by Syria and Russia on Idlib.
Those threats helped stall the offensive, a senior U.S. official said, speaking on condition of anonymity. UN-backed peace talks in Geneva may now gain momentum as Assad realizes there's no military solution, the official said.
But little has been achieved during years of negotiations in Geneva. And the setback for Assad may prove temporary, according to Steven Cook, senior fellow for Middle East and Africa Studies at the New York-based Council on Foreign Relations.
The U.S. is "out of real options in Syria, we don't have leverage,'' he said. "Assad sees victory is within his grasp. It's only a matter of time.''
American goals have shifted from regime-change as Assad's army advanced. The focus is now on denying the Syrian leader political legitimacy to go with his battlefield wins –- and on pushing his Iranian allies out of the country.
Trump's National Security Adviser John Bolton said this week that U.S. troops will stay in Syria as long as Iran and its proxies maintain a military presence there. Trump urged the General Assembly to help isolate Iran, accusing it of spreading "mayhem in the Middle East and far beyond.''
Bolton also said that Iran was ultimately responsible for the downing of a Russian reconnaissance plane by friendly Syrian fire last week. But Russia blamed Israel, whose jets were attacking targets in Syria at the time.
Israel has carried out hundreds of airstrikes inside Syria during the course of the war, saying it's preventing Iranian forces from entrenching there. The Kremlin announced on Monday that S-300 missile defense systems will be delivered to Damascus within two weeks, raising the threat to Israeli planes. Bolton called the move a "significant escalation.''