U.S. Retail Sales Rose in October at Slowest Pace in Six Months
(Bloomberg) -- U.S. retail sales climbed in October at the slowest pace in six months, suggesting consumers are becoming more hesitant amid a surging pandemic and lack of fresh federal stimulus.
The value of total sales increased 0.3% from the prior month, when there was a downwardly revised 1.6% gain, Commerce Department figures showed Tuesday. The median estimate in a Bloomberg survey of economists called for a 0.5% increase. Excluding autos and gasoline, sales rose 0.2%, compared with estimates for a 0.6% gain.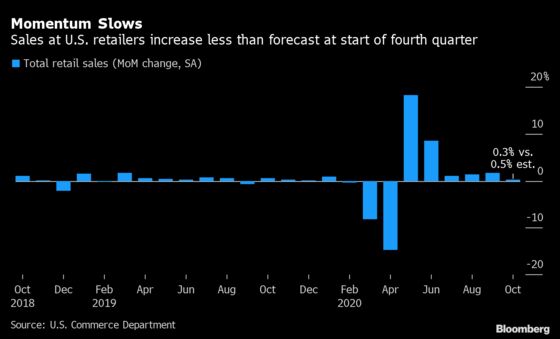 Weaker momentum in consumer spending -- which accounts for two-thirds of the economy -- indicates growth could slow more sharply following the third quarter's record jump in gross domestic product. November and December could prove tougher with states and cities reimposing restrictions on indoor dining and non-essential business to contain a rampant coronavirus, while hopes for additional fiscal stimulus this year keep fading and political uncertainty hangs over government policy.
"The fact that the retail sales were a little weaker in October reinforces the idea that if the pandemic gets worse and there's more shutdowns and restrictions, that the November data, which we haven't gotten yet, will be even softer," former Federal Reserve Bank of New York President William Dudley said on Bloomberg Television.
At the same time, consumer finances are collectively healthy, with elevated savings and lower debt likely to likely to continue supporting some spending.
Other parts of the economy are showing gains. A separate report Tuesday showed U.S. manufacturing production rose at a solid pace in October, marking the sixth straight advance as factories continued to recover from the depths of earlier pandemic-driven lockdowns. Meanwhile, homebuilder sentiment hit another record high this month.
U.S. stocks fell Tuesday, while 10-year Treasury yields and the dollar were lower.
The subdued retail figures followed strong quarterly results earlier Tuesday from two large retailers -- Home Depot Inc. and Walmart Inc. Home Depot's comparable sales jumped 24.1% in the latest quarter from a year ago as the home-improvement retailer benefited from a surge in renovation activity, while Walmart's sales also climbed more than projected as online demand soared at the world's largest retailer.
While the retail report showed a slowdown, an upward revision to a 1.4% gain in August from a previously reported 0.6% indicates that the level of October sales was actually stronger than anticipated, according to economist Stephen Stanley of Amherst Pierpont Securities LLC.
The retail report provides a snapshot of activity in October: eight of the 13 major retail categories decreased, led by clothing and sporting goods and hobby stores. Nonstore retailers -- which include online vendors like Amazon.com Inc. -- recorded the biggest increase, at 3.1%.
Restaurants and bars recorded the first decline since the initial depths of the pandemic in April, a sign that colder weather is discouraging the outdoor dining that kept many businesses afloat during the summer.
So-called control group sales -- often a more reliable gauge of underlying demand -- increased 0.1% from the prior month, missing forecasts. That figure excludes food services, car dealers, building-materials stores and gasoline stations.
"Overall it's a slowing trend in spending, but it's not dropping and not suggesting the consumer is in poor health -- they actually have more savings," said Jennifer Lee, senior economist at BMO Capital Markets. "It's a more cautious consumer as opposed to one unable to spend."
While retail sales rose 5.7% from a year earlier, several categories remain well below pre-pandemic levels, including gasoline stations, clothing stores and restaurants.
The data point to spending that's moderating at the start of the fourth quarter as coronavirus cases rise in every U.S. state, prompting some, including California and New Jersey, to issue new restrictions. Other regions have paused full reopenings.
Early trials from companies including Moderna Inc. have showed effective results, though a vaccine must be developed and deployed in scale before consumers feel comfortable enough to regain regular activity.