U.S. Retail Sales Declined in February as Weather Impeded Demand
(Bloomberg) -- U.S. retail sales declined in February, when inclement winter weather settled over large swaths of the country, representing a temporary setback in demand that's poised to accelerate in coming months.
The 3% decrease in total retail receipts followed an upwardly revised 7.6% surge in January that was the strongest advance in seven months, Commerce Department figures showed Tuesday. The median forecast in a Bloomberg survey of economists called for a 0.5% drop in February.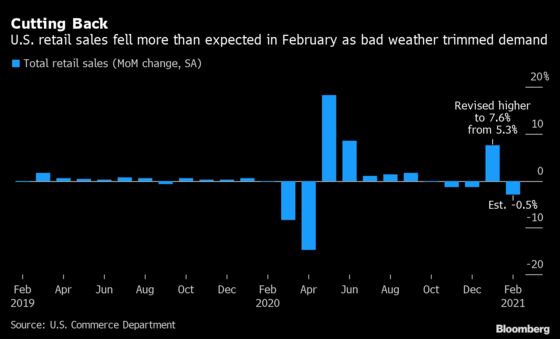 Retail activity was hindered during the month as cities across the U.S. experienced sub-freezing temperatures and winter storms overwhelmed power grids in Texas and the Great Plains. Still, total retail sales remain well above pre-pandemic levels and are set to strengthen into the second quarter as Americans receive another round of stimulus checks from the federal government.
Spending may have also been subdued because the Internal Revenue Service's tax filing window opened two weeks later than usual, delaying refunds. A report last week from the IRS showed a 32% year-over-year decline in refunds.
In addition to government stimulus and warmer spring weather, consumer spending in the coming months will also be fueled by the easing of Covid-19 restrictions and an acceleration in the pace of vaccinations.
Texas, Mississippi and Wyoming have already announced plans to bring their economies back to full capacity this month, and Biden last week directed states to make all adults eligible for vaccinations by May 1.
Eleven of the 13 retail categories registered declines in February, including a 4.2% decrease at motor vehicle dealers.
A surge in gasoline prices, in part due to the energy crisis in Texas, helped keep the value of sales from falling more. The retail data aren't adjusted for inflation. Service station receipts rose 3.6% in February.
A separate report from the Labor Department showed import prices jumped 3% in February from a year earlier, the biggest gain since October 2018 as petroleum costs surged.
Retail sales excluding autos fell 2.7% in February, the most since April
So-called control group sales, which exclude food services, car dealers, building-materials stores and gasoline stations, fell 3.5% in February after an upwardly revised 8.7% jump in January
Over the last three months, control group sales rose an annualized 3.5%. The measure is often considered more reflective of underlying consumer demand