U.S. Resumes Energy-Market Probes After Record Low In Trump Era
(Bloomberg) -- Investigations into U.S. energy markets rebounded from a record low last year as the regulatory agency flexed its authority under the Biden administration to hold utilities, pipelines and traders accountable for fraud to reliability and environmental violations. 
The Federal Energy Regulatory Commission launched 12 new investigations in the fiscal year ended Sept. 30, climbing from six the previous year, according to the agency's annual enforcement report released Thursday. The enforcement staff's surveillance team recommended two potential investigations into natural gas and power market violations related to extreme weather events in February after reviewing more than two dozen inquiries. 
During the year, the commission's investigations resulted in $6.4 million civil penalties and disgorgement of profits through eight settlements, up from three settlements totaling about $550,000 in the previous 12 months, which was the lowest in data going back to 2007. 
"I'm pleased to see, after a lull over the last couple of years, the commission is pursuing market manipulators," Chairman Richard Glick said during a monthly commission meeting Thursday.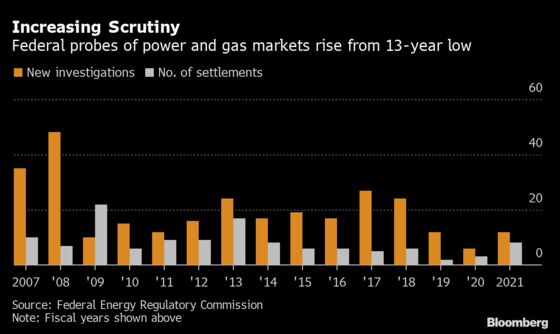 Promoted by the Biden administration earlier this year to run the regulatory agency, Glick has vowed to step up enforcement after last year criticizing FERC for failing in its responsibility to hold traders accountable for breaking the rules. Now, the commission potentially faces its biggest enforcement test since the U.S. West energy crisis two decades ago. In addition to probes into grid reliability and market abuse after the Texas deep freeze, FERC is also examining risks that climate change and extreme weather pose to electric reliability.