U.S. Oil Production Surge Keeps Pressure on OPEC+ to Cut Supply
(Bloomberg) -- U.S. oil production surged to a new record in September, adding more pressure on OPEC and its allies to cut supply at next week's meeting.
American drillers pumped 11.475 million barrels a day, the U.S. Energy Information Administration said, eclipsing Russia for a second month as the world's biggest producer. That exceeded weekly estimates by 428,000 barrels a day, the second time in as many months that the agency revised its preliminary data sharply higher.
The U.S. output surge will weigh heavily in discussions this weekend at the G-20 summit as well as at next week's meeting of OPEC and its allies. Saudi Arabia in particular faces a difficult choice: whether to cut production and support prices that have fallen to $50 a barrel, at the risk of angering U.S. President Donald Trump.
Russia's Vladimir Putin and Saudi Arabia's Mohammed bin Salman may discuss oil supplies at the summit in Argentina. An OPEC advisory committee suggested a 1.3 million barrel-a-day cut from October levels, according to a delegate. Analysts surveyed by Bloomberg expect producers will announce some cuts, despite protests from Trump.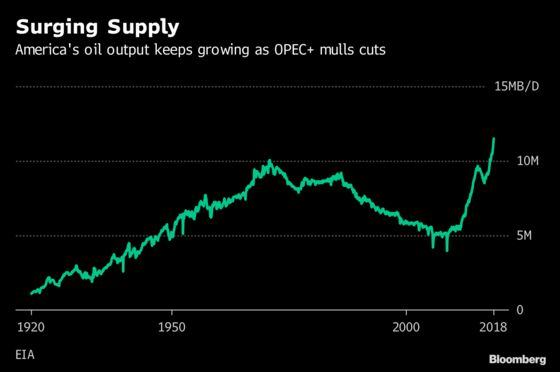 Production increased 1.1 percent from August and 21 percent a year ago, led by Texas, North Dakota and Alaska, countered by a drop in Gulf of Mexico output. The revision is likely to result in upward adjustments in weekly data and the EIA's outlook for next year's production.
America's supply growth, while helping to lower gasoline prices for consumers, is bound to hurt domestic producers as the industry grapples with transportation bottlenecks until more pipeline capacity is added later next year. Analysts are already expecting shale explorers to cut spending budgets next year as prices spiral lower.