U.S. New-Home Sales Rose in August After Downwardly Revised July
(Bloomberg) -- U.S. purchases of new homes rebounded in August from the slowest pace in almost a year, a potential sign of stabilization in the market, according to government data Wednesday.
Highlights of New Home Sales (August)
Single-family home sales rose 3.5% m/m to 629k annualized pace (est. 630k) after 608k rate in July (revised from 627k); June revised down to 618k from 638k
Median sales price increased 1.9% y/y to $320,200
Supply of homes at current sales rate fell to 6.1 months from 6.2 months
Key Takeaways
While the sales gain was the first in three months, the downward revisions to prior figures indicate that the market in recent months was slower than previously reported, adding to broader indications of cooler demand in residential real estate.
The new-home market is being supported by the highest consumer confidence in 18 years and a robust job market. At the same time, rising prices and higher mortgage rates, amid a shortage of available and affordable homes, have been weighing on purchases.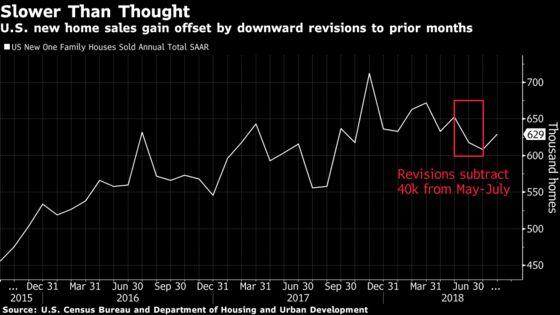 The August gain was driven by advances in the Northeast and West, while the South, the biggest region, showed a decline.
New-home sales, tabulated when contracts get signed, account for about 10 percent of the market. They're considered a timelier barometer than purchases of previously owned homes, which are calculated when contracts close and are reported by the National Association of Realtors. Existing-home sales were unchanged in August after four straight declines, the NAR said last week.
Other Details

318,000 new houses were on market at end of August, most since February 2009
Northeast pace of home sales rose 47.8 percent to 34,000; West was up 9.1 percent to 168,000, Midwest advanced 2.7 percent to 77,000
Sales declined 1.7 percent in South to 350,000 pace
Report shows 90 percent confidence that the change in sales last month ranged from a 10.2 percent drop to a 17.2 percent increase, underscoring the volatility of the data
Report is released jointly by the Census Bureau and Department of Housing and Urban Development in Washington
©2018 Bloomberg L.P.