U.S. New-Home Sales Rise in July, Steadying From Recent Softness
Sales of new U.S. homes rose in July for the first time in four months, helped in part by additional inventory and indicating still-firm underlying demand.
Purchases of new single-family homes increased 1% to a 708,000 annualized pace following an upwardly revised 701,000 in June, government data showed Tuesday. The median estimate in a Bloomberg survey of economists called for a 697,000 rate.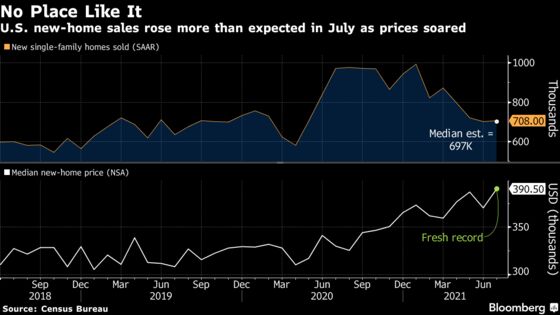 The report suggests purchases are steadying somewhat after falling to the lowest level since April 2020 in the prior month. While inventory remains limited, an increase in the supply of homes helped fuel sales.
Compounded by low borrowing rates that led to a surge in purchases last year, builders have struggled to keep pace with demand. The resulting price surge has made homes less affordable to many Americans.
The report, produced by the U.S. Census Bureau and the Department of Housing and Urban Development, also showed the median sales price of a new home jumped 18.4% from a year earlier, to a record $390,500.
The July increase in U.S. sales were concentrated in the West and South.
Looking ahead, any easing of builders' trials to acquire materials and workers should support the construction of a greater number of affordable homes, generating more sales.  
There were 367,000 new homes for sale in July, but almost 29% of those houses were not yet started. Some 226,000 homes were under construction, the most since 2008. The number of completed homes made up less than 10% of for-sale properties.
"New-home sales have been able to increase somewhat because of buyers' pent up demand and the slight influx of completed inventory that was able to hit the market in mid-summer," Kelly Mangold of RCLCO Real Estate Consultants, said in a note.
Just a quarter of the homes sold in July were completed, the report showed, suggesting residential construction activity will stay firm in coming months.
At the current sales pace, it would take 6.2 months to exhaust the supply of new homes compared with 6 months in June.
A separate report out Monday showed sales of previously owned homes rose in July for a second month, indicating firmer housing demand as inventory constraints showed signs of easing.
Affordability is also an issue in Canada, where Prime Minister Justin Trudeau has proposed restricting purchases by foreign buyers.
Read more: Trudeau Vows 2-Year Ban on Foreign Home Buyers
Sales surged 14.4% in the West, while purchases slumped more than 20% in both the Northeast and Midwest regions
New-home purchases account for about 10% of the market and are calculated when contracts are signed. They are considered a timelier barometer than purchases of previously-owned homes, which are calculated when contracts close
The data are volatile; the report showed 90% confidence that the change in sales ranged from a 10.3% decline to a 12.3% increase