U.S. New-Home Sales Fall by More Than Forecast as Prices Surge
Sales of new U.S. homes declined in April by more than forecast as higher prices limited demand, while construction backlogs continued to build.
Purchases of new single-family homes fell 5.9% to a 863,000 annualized pace following a downwardly revised 917,000 in March, government data showed Tuesday. The median estimate in a Bloomberg survey of economists called for a 950,000 rate.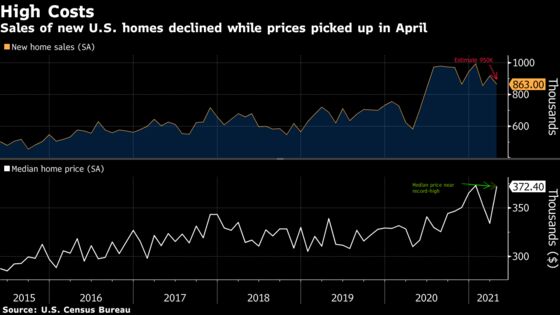 A jump in building materials costs is contributing to higher prices, a headwind for an otherwise robust housing market. While elevated prices are acting as brake on demand, mortgage rates near historic lows and elevated backlogs suggest steady residential construction gains in coming months that will help contribute to economic growth.
The median sales price rose 20.1% to $372,400 from a year earlier. There were 316,000 new homes for sale in April, the most in a year. At the current sales pace, it would take 4.4 months to exhaust the supply of new homes, compared with 4 months in March.
The number of homes sold in April and awaiting the start of construction -- a measure of backlogs -- increased 16.5% from a month earlier to 325,000, the highest since 2006, Tuesday's report showed. Builders have been constrained by supply-chain challenges and rising materials costs in recent months.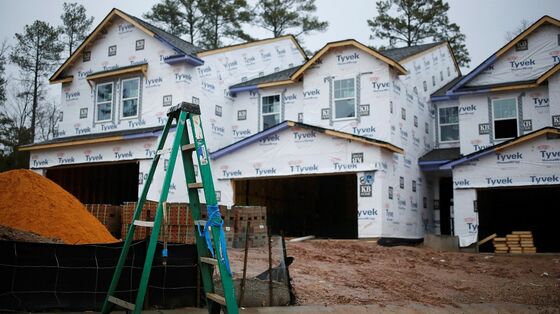 The total number of homes sold with construction underway dropped in April to the lowest since June, underscoring the difficulty builders are having with shipments of materials. Supply shortages help explain why construction of new homes fell 9.5% in April, a separate report last week showed.
Separate figures on Tuesday showed nationwide home prices soared in March by the most since 2005. The S&P CoreLogic Case-Shiller index of property values jumped 13.2% from the same month last year.
Sales declined in three of four U.S. regions. Purchases dropped more than 8% in both the South and Midwest, while sales climbed in the West by nearly 8%
New-home purchases account for about 10% of the market and are calculated when contracts are signed. They are considered a timelier barometer than purchases of previously-owned homes, which are calculated when contracts close
The new-homes data are volatile; report showed 90% confidence that the change in sales ranged from a 17.1% decline to a 5.3% increase
A separate report last week showed sales of previously-owned U.S. homes dropped in April for a third month