U.S.-Mexico Showdown Puts $45 Billion Food Trade in Cross Hairs
(Bloomberg) -- Meat and grains, fruits, vegetables and even sugar. These are the dinner-table goods that are regularly imported back and forth between Mexico and the U.S.
About $26 billion in farm and food goods moved north to the U.S. in 2018, while $19 billion in such items traveled south to Mexico, according to lender CoBank ACB. U.S. President Donald Trump has threatened to impose 5% tariffs on imports from Mexico starting on June 10, rising to 25% in October if the country doesn't meet his immigration demands.
If the tariffs do reach 25%, the cost to U.S. importers could be $6.5 billion based on the dollar amount bought from Mexico in 2018, the Greenwood Village, Colorado-based lender advised. If Mexico retaliates, dinner tables on both sides of the border could be affected.
"Things will become more costly for the American consumer," if the tariffs climb to 25%, said Dan Kowalski, vice president of research for CoBank.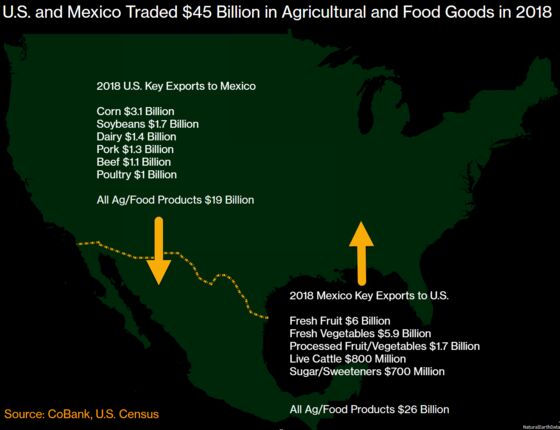 In mid-May, the removal of U.S. tariffs on steel and aluminum from Canada and Mexico lifted hopes for the eventual ratification of a new trade agreement between the three countries.
Mexican Foreign Minister Marcelo Ebrard has said he sees 80% odds for Mexico to negotiate a solution with the U.S. to avoid any new tariffs, optimism echoed by President Andres Manuel Lopez Obrador. Still, there's a lack of certainty for farmers, traders and others in the agricultural sector moving forward, according to CoBank's Kowalski.
"Hard for the agricultural sector to make medium to long-term plans when they are not sure what the foreign trade policy will be," Kowalski said.