Market Volatility Drags Down U.S. Leveraged Loan Returns
(Bloomberg) -- After holding out for most of this year, in the past month U.S. leveraged loans joined other parts of credit getting thrashed by the volatility swirling through the markets.
Total returns for the asset class have been 2.7 percent this year, a slip from a peak of 4.3 percent in late October, but better than most parts of fixed income where negative returns are commonplace. Floating rates had helped shield loans from negative returns elsewhere in
credit.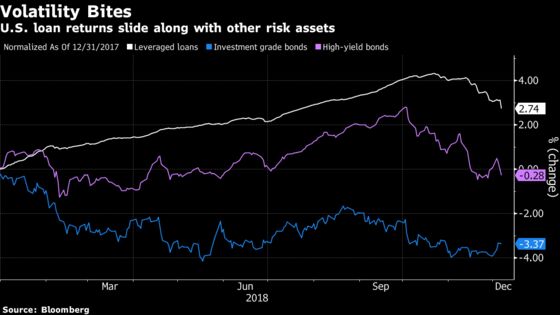 Loan investors are facing concerns that can whittle way their returns, including peak earnings, tumbling oil prices and margin erosion from trade wars. Loans are once again experiencing correlation with other risk assets, a shift from earlier in the year when they were supported by an insatiable demand for floating-rate products that are more favorable during a rising rate environment. Taking their cues from gyrations in the investment-grade and high-yield bond markets, loans are selling off in sympathy.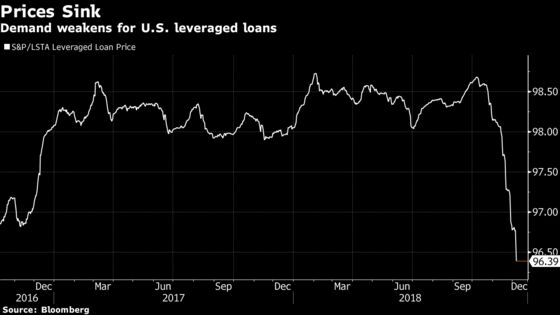 Investors are heading for cover, and loan funds are seeing massive exits. Leveraged loan mutual funds and exchange traded funds saw the third consecutive week of billion dollar-plus outflows, according to Lipper, the first such instance since 2014. Collateralized loan obligations, the largest buyer base, are also slowing their purchases as new CLO deals get pushed to next year.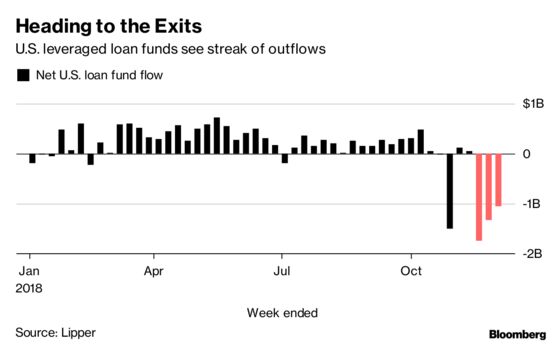 Still, volatility hasn't been debilitating for new deals, and the U.S. leveraged loan market is open for new issuance -- just for a higher price and tighter terms. The turn in the market has empowered investors over issuers for the first time since this summer when a slew of new supply allowed investors to be choosy. For example, XOJet Inc. recently slashed the original issue discount on its $210 million term loan to 93, down from an initial talk of 99.5, to attract enough investor interest.
Market turbulence is also affecting covenants. Along with hiking the yield, LifePoint Health Inc. last month made a slew of investor-friendly changes that strengthened covenants. After the changes, the healthcare company increased its acquisition loan by $150 million to $3.55 billion.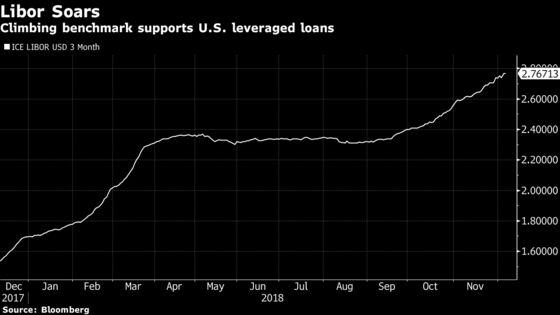 Though the backdrop is more challenging for loans, the pickup in Libor helps offset some of these challenges. The benchmark three-month rate hit a fresh 10-year peak at 2.77 percent Friday-- helping to boost investments in floating-rate loans.