U.S. Leveraged Loan Market Is Showing Signs of Sputtering
(Bloomberg) -- The best-performing U.S. corporate debt market is showing a few cracks.
A $6.5 billion loan that helped finance the leveraged buyout of a Thomson Reuters Corp. unit is quoted at around 97.25 cents on the dollar, after being sold for just shy of 100 cents. The $5.05 billion of loans for KKR & Co.'s buyout of Envision Healthcare are now quoted at about 96.125 cents on the dollar, around two months after being issued at 99.75 cents.
These debts have weakened with the broader leveraged loan market, which on average is priced at its lowest level since 2016. And there are other signs of cooling in loans too: the percentage of new deals that had to increase pricing spiked earlier this month to the highest of the year, according to data compiled by Bloomberg. Loan offerings are getting pulled at the fastest rate since July. And U.S. leveraged loan funds are seeing some of their biggest outflows in nearly three years.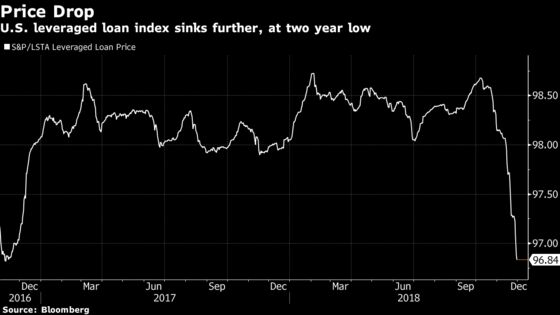 It's hardly a loanpocalypse. Plenty of new issues are still getting sold in the more than $1 trillion market, and the debt has gained about 3.1% this year including interest, performing better than U.S. junk bonds and investment-grade notes. Loan prices often fall toward the end of the year, as money managers grow reluctant to take risk and buy new loans. Any current weakness may disappear in the new year. And investment-grade corporate debt is showing signs of stabilizing.
Read more in the Credit Brief: Fed warns on debt and Oak Hill sees risks
But recent loan price declines have been higher than usual and markets from equities to oil have been weakening since October. Some members of the Federal Reserve's Federal Open Market Committee, the central bank's key monetary policy setting body, have expressed concern about "the high level of leveraged loans" and overall corporate borrowing.
The difficulty in lending markets underscores that even the relatively safe corners of credit -- loans are insulated from interest-rate hikes and are first in line to be repaid when a company fails -- can suffer when money managers get worried. Companies hoping to tap the loan market to cut their borrowing costs and gain more time to pay off debt are realizing that now might not be the best time to borrow.
"People are generally avoiding risk and there's no need to chase new issues," said Michael Nechamkin, co-chief investment officer at Octagon Credit Investors, which has $20 billion in assets.
At least five loan offerings have been pulled in November, including deals from Sorenson Communications, which makes videophones for the deaf and hard-of-hearing, and Perimeter Solutions, a chemicals company. The borrowers that are pulling back tend to be those that don't absolutely need the financing -- perhaps they were looking to refinance debt amid a hot market but were surprised at how much they would have to end up paying.
Jason Inc., for example, was looking to extend maturities on loans maturing in 2021 and 2022. After pulling its deal, the manufacturer still has ample time to handle those obligations.
There's more evidence that investors are gaining the upper hand in the loan market. The main U.S. leveraged loan price index fell below 97 cents on the dollar this week, the lowest level since the end of 2016. It's been falling since October, when it topped 98.5 cents.
And last week, eight loans that companies were issuing ended up paying more interest than the borrowers had anticipated, while none ended up paying less. There hasn't been a week where no offerings tightened since at least August.
"The lenders generally have the upper hand now and can extract better terms," said Frank Ossino, senior managing director at Newfleet Asset Management, which has $11.4 billion in assets under management.