U.S. Leveraged Loan Funds Lose Cash at Fastest Pace Ever
(Bloomberg) -- U.S. leveraged loan funds saw $2.53 billion of net outflows in the week ended Dec. 12, the biggest decline on record, as jittery markets rattle demand for riskier assets.
Investors pulled $1.82 billion from mutual funds that buy the debt, according to Lipper, while exchange-traded funds lost $705 million. It was the fourth straight week of outflows. Fund flows often trail secondary prices, which have slumped to the lowest levels since October 2016, according to the S&P/LSTA Leveraged Loan Price Index.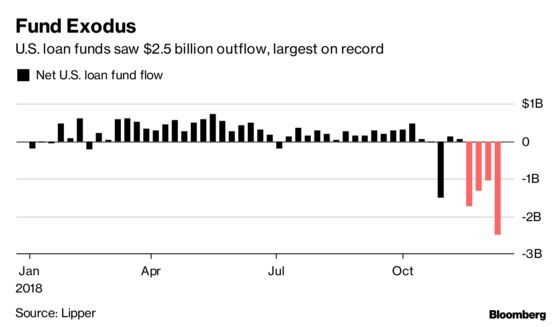 Just a few months ago, leveraged loans were among the hottest of markets. But fears of slowing global growth, trade-war tensions and slumping energy prices have left investors willing to take few risks heading into year-end. That has disrupted issuance of the debt, with several offerings shelved.
Since Oct. 1, loans have lost about 2 percent, including a 1 percent drop this month, while both high-yield and investment grade bonds rose slightly. Fund outflows and waning demand from collateralized loan obligations, the biggest loan buyers, are adding pressure.
U.S. leveraged loans saw $1.04 billion in fund outflows for the week ended Dec. 5 after $1.32 billion of outflows the previous week, according to Lipper.
Many in the market are optimistic things will turn around next year, with JPMorgan Chase & Co. strategists predicting a 6 percent gain in 2019. The market is ending 2018 with a gain of about 2 percent.
Wells Fargo & Co. and Barclays Plc took the rare step of keeping a $415 million buyout loan on their books after failing to sell it to investors, Bloomberg News reported Thursday. The banks now plan to wait until January to offload the loan, which helped finance Blackstone Group LP's buyout of Ulterra Drilling Technologies, people with knowledge of the matter said.