Even Good News Is Bad News for Carmakers
(Bloomberg Opinion) -- Global automakers weighed down by the threat of tariffs could do with some good news, so a strong month for U.S. car sales should have come as a relief. Alas, even this silver lining has a cloud.
At face value, the market was alive and kicking in June, with most companies beating or at least meeting estimates. Even Nissan Motor Co., which has been struggling in the U.S., reported a gain instead of the large sales decline predicted by analysts.
Here's the wrinkle: America's obsession with gas-guzzlers means consumers are buying up models that are most exposed to President Donald Trump's proposed duties on imported vehicles and parts, not to mention oil prices that are at a four-year high.
Total light-vehicle sales rose around 2 percent. For the Japanese carmakers, sales of light trucks – a segment that includes minivans, sports utility vehicles and pickups – rose about 10.5 percent from a year earlier, while passenger cars dropped by roughly the same amount. Light trucks now account for almost 70 percent of all U.S. vehicle sales, a record high.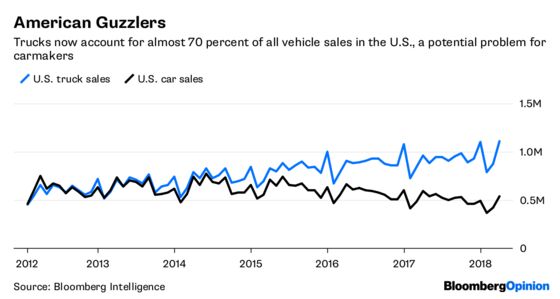 Toyota Motor Corp. posted record monthly and first-half numbers for light-truck varieties such as the RAV4, Highlander and Lexus LUV. At the same time, the Japanese automaker noted that more than half of its RAVs – the company's fastest-growing model – are produced in Japan for sale in the U.S. The remaining 45 percent are made in Canada.  
Around half of Toyota's U.S. sales in June were imports. The cost of these cars could go up by at least $2,000 to $5,000 once tariffs take effect.
There are other signs of trouble brewing beneath the surface. Automakers such as General Motors Co. attributed sales gains to a strong U.S. economy, increased take-home pay, elevated consumer confidence and robust household balance sheets. But at the same time, auto-loan terms have been stretched to close to 70 months, vehicle-finance interest rates are at a nine-year high, and the number of buyers who owe more than than their car is worth hasn't retreated from recent peaks, according to auto market researcher Edmunds. And there are those rising oil prices.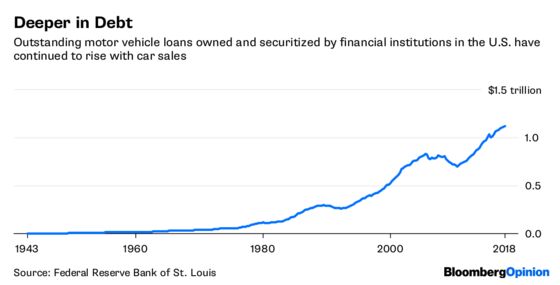 Hopes that the U.S. is entering a new vehicle cycle appear premature. Perhaps, consumers are jumping to buy and lease now before the tariffs hit and while rates aren't rising too fast. That means trade threats could be dislocating the gradual – and healthy – slowdown of an overheated market. Nissan's case is key: Expected by analysts to show a 7 percent drop, big discounts and incentives instead helped the automaker post a 1.2 percent uptick.
Investors aren't buying the good news story: Shares of carmakers fell across the board in the U.S. and in early trading in Asia.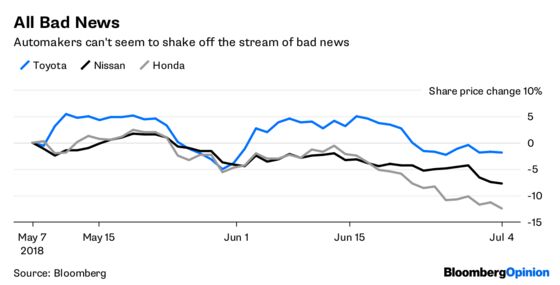 The fact is that American consumers will pay for Trump's trade war with their incomes and jobs, as will automakers. One month of sturdy sales can't change that reality.