U.S. Jobless Claims Rise to 252,000 Amid Holiday Volatility
(Bloomberg) -- Applications for unemployment benefits increased more than expected to a two-year high amid seasonal volatility in an otherwise stable labor market.
Jobless claims rose by 49,000 to 252,000 in the week ended Dec. 7, Labor Department data showed Thursday. The figure was just above the highest forecast in Bloomberg's survey. The four-week average, a less volatile measure, climbed to 224,000, while the average for continuing claims decreased.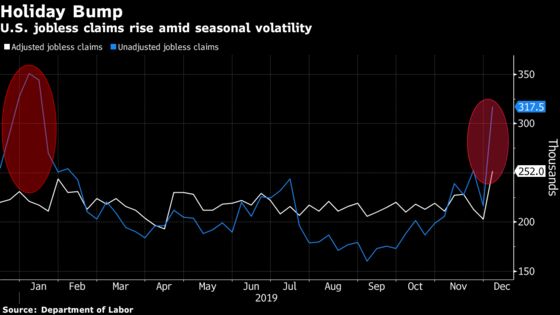 The increase in filings from a seven-month low reflects volatility around the Thanksgiving holiday. The underlying trend, though, is a tight labor market in which employers are reluctant to dismiss workers. It follows a November jobs report showing payrolls posted the best gain since January.
Seasonal adjustment around the holiday would have been more difficult as Thanksgiving fell later this year. On an unadjusted basis, claims jumped 46% to 317,509.
The Federal Reserve held interest rates on Wednesday with Chairman Jerome Powell emphasizing that he expects the labor market and economic expansion to remain healthy.
A separate Labor Department report Thursday showed that a gauge of underlying producer prices was unchanged in November from the prior month and up 1.1% from a year earlier. The data add to a more closely watched measure on inflation, the consumer price index, which showed Wednesday that gains remained subdued.
Continuing claims, reported with a one-week lag, decreased by 31,000 in the week ended Nov. 30 to bring the four-week moving average for the measure to two-month low.
The unemployment rate among people eligible for jobless benefits held at 1.2%.
Economists surveyed by Bloomberg had projected 214,000 new claims in the latest week.