U.S. Job Market's Strength May Surprise Investors on Friday
(Bloomberg) -- Investors primed for moderation in the U.S. labor market may be surprised by the strength of November's jobs report, though some cooling is still likely in 2019.
Seasonal, weather and industry factors are set to prop up the employment and wage figures due Friday from the Labor Department. Some Americans returned to work following hurricanes in the prior two months, while retail and related industries probably hired aplenty for what's expected to be a strong holiday-shopping period. Also, Amazon.com Inc.'s Nov. 1 wage hike may help pay.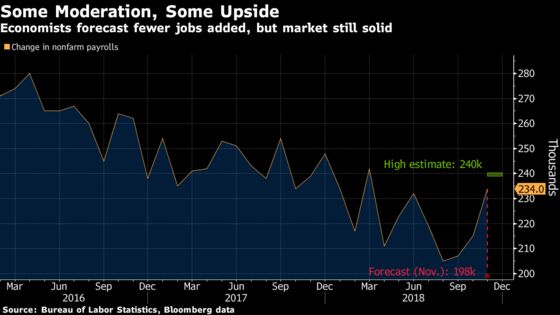 "We're not falling off a cliff," said Scott Anderson, chief economist at Bank of the West. "In fact, we're expecting to see pretty good wage growth in these numbers. It's still a very decent job market out there." While the broader economy may be starting to manifest signs of a slowdown, "that's not going to show up in Friday's payroll numbers," he said.
While the median estimate of economists for a November gain of almost 200,000 jobs is below October's 250,000, that's still more than healthy and in line with the average of the past two years. Average hourly earnings are projected to advance 3.1 percent from a year earlier for a second straight month, after topping 3 percent for the first time in nearly a decade. The unemployment rate probably held at 3.7 percent, the lowest since 1969.
Strong employment figures -- fed by steady demand from consumers and companies and tax cuts earlier this year -- would contrast with sentiment in financial markets, which were whipsawed anew Tuesday by trade-policy uncertainty. Part of the Treasury yield curve inverted on Monday, a possible harbinger of recession, as traders started betting on Federal Reserve interest-rate cuts as soon as 2020.
That followed a week of wild swings including a stock rally on Monday amid hope for a thaw in the trade war between the U.S. and China., and gains last week following comments by Fed Chairman Jerome Powell seen as indicating the central bank is less inclined toward additional interest-rate hikes.
"After the past two days, the markets are now pricing in weaker-than-expected numbers in Friday's employment report," said Matt Maley, equity strategist at Miller Tabak + Co. "Therefore, if the data is either in-line or better-than-expected, we should see another big reversal in both the stock and bond markets."
U.S. markets are closed Wednesday for a national day of mourning for President George H.W. Bush.
What Our Economists Say...
The November jobs report will likely show that hiring momentum has remained solid, helped somewhat by recovery efforts after Hurricane Michael. ... Nevertheless, over the next few months, recent market havoc may filter into real economic activity; flagging business confidence could weigh on the pace of hiring early next year if the market jitters spill over.

-- Yelena Shulyatyeva, Tim Mahedy and Carl Riccadonna (Economist)
November will contain the tail end of the storm impact: some Americans were still getting back to work following Hurricane Michael in October, and even Florence in September, where millions were asked to evacuate and recovery efforts are still ongoing. Amazon's bump-up in its minimum hourly wage to $15 last month added to pressure among other firms to find and retain employees, likely boosting pay beyond just the Internet retailer.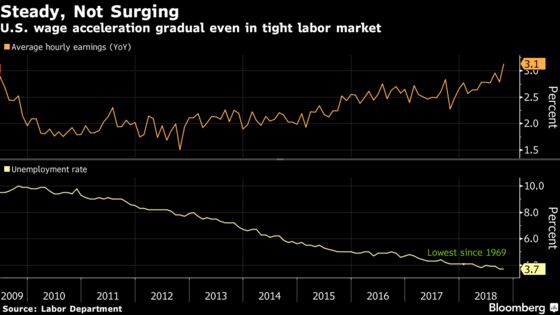 More broadly, retailers geared up for the holiday shopping season with a spree of their own: Societe Generale SA senior U.S. economist Omair Sharif said industry hiring will rebound after averaging a decline in recent months, while outplacement firm Challenger, Gray & Christmas Inc. tallied seasonal hiring in 2018 at the highest in seven years of tracking.
That could filter into other industries tied to retail, including transportation and warehousing, according to Lydia Boussour, senior economist at Oxford Economics. History suggests there's potential for upside surprise on jobs: Boussour noted that, over the last decade, the first report on November payrolls has tended to exceeded estimates.
Powell said last week that he and his Fed colleagues "are forecasting continued solid growth, low unemployment and inflation near 2 percent," the central bank's target, causing stocks to rally. That was followed by a plunge Tuesday after New York Fed President John Williams was more optimistic. The latest moves in financial markets suggest investors expect employment figures to become more restrained.
"If it comes in hot, then it will add pressure on top of what people are already worried about," said Jim Paulsen, chief investment strategist at Leuthold Weeden Capital Management LLC. "If they're worried about the economy slowing and wage inflation is going up, that puts the Fed in a box and makes an inverted yield curve much more likely."
"It opens up the possibility of a disappointment if either the numbers are weak or strong, because now we're worried about a recession and we have this lingering fear that the Fed can't stop raising rates," Paulsen said.
Recent data point to some moderation in the labor market: Filings for unemployment benefits have risen for three straight weeks to the highest level since May, while job openings fell in October for the first time in four months.
Oil prices have plummeted by about a third over the past two months, likely causing energy companies to reduce hiring, while a cooling housing market may hurt construction jobs. While a manufacturing survey pointed to continued job gains in November, factories may be at risk from tariffs and a strong dollar, with the latest U.S.-China trade talks adding to uncertainty.
Analysts already forecast a slowing of job growth: Payroll gains are expected to average 155,000 a month in 2019, down from 205,000 this year, according to a Bloomberg survey.
Markets may be awaiting a weaker jobs report because of what they perceived as dovish comments from the Fed and "expectations that growth is going to slow down next year, and profits won't be as good," said SocGen's Sharif. If Friday's report is above expectations or even in-line, "it might be time to reassess: 'Wait a second, did we go too far in pricing out the Fed for next year?"'