U.S. Housing Starts Drop by Most Since '16 to Nine-Month Low
(Bloomberg) -- U.S. new-home groundbreaking and permits fell in June to the slowest paces in nine months, as higher mortgage rates and elevated costs for labor and materials pinch the housing market, government figures showed Wednesday.
Highlights of Housing Starts (June)
Residential starts fell 12.3% to a 1.17m annualized rate (est. 1.32m) after downwardly revised 1.34m pace in prior month; biggest drop since Nov. 2016
Single-family home starts dropped 9.1%; multifamily starts dropped 19.8% 
Permits, a proxy for future construction of all types of homes, fell 2.2% to 1.27m rate (est. 1.33m) after unrevised 1.3m pace 
Key Takeaways
Shares of homebuilders fell after the report. While the data are volatile and often subject to significant revisions, the report suggests growth in the housing market may be more modest than previously thought amid constraints for both buyers and developers. Economists may wait for July data to judge whether the trend in construction has shifted. The figures mark the weakest activity since hurricanes Harvey and Irma struck the U.S. in August and September.
Potential customers are grappling with elevated interest rates and ever-rising home prices that are easily outpacing wage gains, even as a robust job market and tax cuts support demand. For builders, issues include elevated prices of lumber and other imported materials, partly due to tariffs. Developers have also cited difficulties finding qualified workers and ready-to-build lots.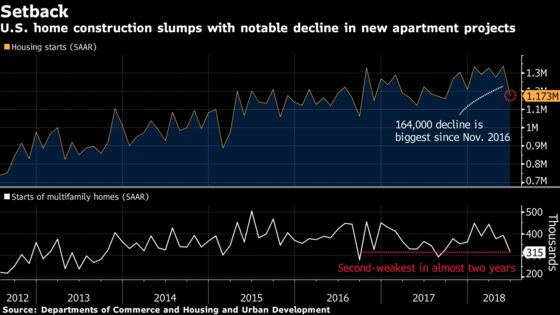 The data follow a report Tuesday showing that a gauge of homebuilders' confidence was unchanged in July from the prior month to match the lowest level this year. An index of the six-month sales outlook fell to the lowest since September, according to the survey from the National Association of Home Builders/Wells Fargo.
Wednesday's report wasn't as bad as the main numbers indicate, according to Ian Shepherdson of Pantheon Macroeconomics, who pointed out that the "most important" number, single-family permits, rose 0.8 percent from the prior month. At the same time, the trends in both construction and sales of such homes "have been about flat, more or less, since last fall," and the housing market has probably peaked for this expansion, he wrote in a note.
"You could explain a decline, but not a decline of that magnitude," Hugh Johnson, chief investment officer of Hugh Johnson Advisors LLC. He said Wednesday's figures were "a one-month glitch and we'll be somewhat back on track in the coming months, led by an economy that's expanding, incomes which are expanding, employment which has been surprisingly strong, and although mortgage rates are rising, they're not rising nearly as fast as they could."
What Our Economists Say
June housing starts disappointed, and suggests that the gradual recovery in the housing market may be moderating further. However, digging into the details, at least some of the slowing is due to supply shortages -- which is consistent with an economy that continues to grow above trend. Expect some easing in the pace of economic activity in the second half of the year.

-- Tim Mahedy and Carl Riccadonna, Bloomberg Economics