U.S. Housing Starts Fell Last Month Amid Hurricane Florence
(Bloomberg) -- U.S. new-home construction fell in September on a decline in the South that may reflect disruptions from Hurricane Florence, government figures showed Wednesday.
Highlights of Housing Starts (September)
Residential starts dropped 5.3% to 1.201m annualized rate (est. 1.21m) after downwardly revised 1.268m pace in prior month
Multifamily home starts fell 15.2%; single-family declined 0.9%
Permits, a proxy for future construction of all types of homes, slipped 0.6% to 1.241m rate (est. 1.275m) after 1.249m pace; reflects decline in multifamily permits
Key Takeaways
Analysts had forecast a decline in housing starts after Hurricane Florence, which made landfall in North Carolina on Sept. 14, caused damage and flooding throughout the Carolinas. Those states are part of the report's South region, which accounts for about half of starts and showed a 13.7 percent drop from the prior month. Hurricane Michael, which struck Florida and other southeastern states last week, will probably affect activity in October.
While the impact of the storms on housing data is likely to be temporary, the decline in starts largely reflected slower construction in multifamily housing, a category that tends to be volatile. In addition, permits for single-family homes rose 2.9 percent last month, the most in a year, on gains in the Northeast and West, indicating builders have a steady pipeline of construction.
That indicates housing could contribute to the economy toward the end of the year as consumer demand, helped by a solid job market, lower taxes and post-storm rebuilding, overshadows headwinds including rising mortgage rates and property prices.
On the other hand, permits for multifamily housing fell to the lowest level since March 2016, suggesting that an apartment glut in some cities may be making builders more hesitant.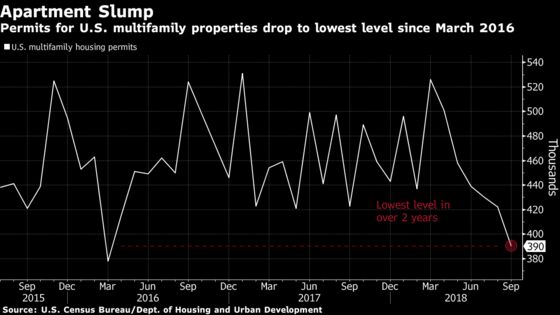 A decline in lumber prices from a record earlier this year may also be providing some comfort to developers. A gauge of homebuilders' confidence rose in October for the first time in five months, according to a National Association of Home Builders/Wells Fargo report released Tuesday.
What Our Economists Say
Housing starts have been hovering near their current level for the last couple of years without a shift toward a meaningful upward trend, so September's decline should not be fully blamed on hurricane disruptions. As activity rebounds, residential housing construction should get a modest boost going into the end of the year, but it is not expected to change the recent dynamics in the housing sector. No major acceleration in housing construction activity is expected.

-- Yelena Shulyatyeva and Carl Riccadonna, Bloomberg Economics

Read more for the full reaction note.
Other Details

Single-family home starts fell to a 871,000 rate from 879,000 the prior month
Groundbreaking on multifamily homes, such as apartment buildings and condominiums, dropped to an annual rate of 330,000
Midwest region also posted a decline in starts, while they rose in Northeast and West to highest levels since March
Report shows wide margin of error, with a 90 percent chance that the September figure on housing starts ranged from a 16.6 percent drop to a 6 percent gain
Report released jointly by the Census Bureau and Department of Housing and Urban Development in Washington
©2018 Bloomberg L.P.