U.S. Homebuilders Fall as Analysts Warn of a 'Rocky' Path Ahead
(Bloomberg) -- Homebuilders in the U.S. fell after a report of slowing housing starts and a flurry of analyst warnings signaled that the industry's slowdown will continue in the coming year.
Rising mortgage rates, along with years of steady price increases, have cut into affordability for buyers, especially in expensive coastal markets where demand is slowing. Homes are also getting costlier to build, and it's becoming more difficult for companies to pass the increase on to customers.
An S&P index of homebuilders, already down about a third this year, declined as much as 3.9 percent Wednesday after government data showed U.S. home construction fell in September. At 10:49 a.m. New York time, Meritage Homes Corp. slid 7.3 percent, KB Home dropped 4.8 percent and Toll Brothers Inc. was down 4.3 percent.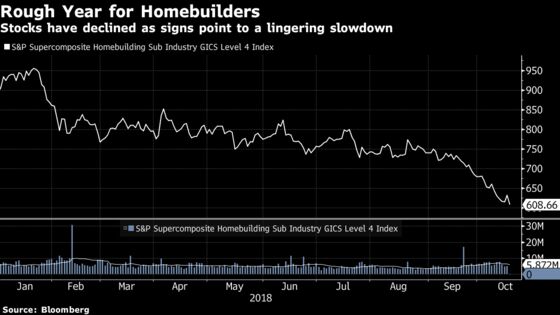 BTIG analyst Carl Reichardt reduced builder earnings estimates for the 2018 and 2019 fiscal years and cut price targets for D.R. Horton Inc. and KB Home, on the expectation of lower home orders and profit margins. Susan Maklari of Credit Suisse downgraded Lennar Corp. and Meritage to neutral from outperform, and KB Home to underperform from neutral.
"We believe builders are reacting to conditions by moderating price increases (at best) and increasing incentives and reducing base prices (at worst)," Reichardt wrote.
Maklari said her downgrades were specific to builders with a focus on high-cost areas, particularly California, which has seen a significant slowdown. The state accounted for about 30 percent of KB Home's closings and about 13 percent for Lennar and Meritage, she said.
Alan Ratner of Zelman & Associates warned investors to "buckle up for a rocky builder earnings season," citing downside risks for many metrics, especially orders. Home deliveries will probably also be delayed because of Hurricane Florence, he wrote.
U.S. home construction slipped last month, led by a decline in the South that may reflect disruptions from the storm, the Census Bureau reported. Starts for single-family houses fell 0.9 percent.