Biden Defends Strikes on Iran-Backed Militias, Rebuts Critics
(Bloomberg) -- President Joe Biden said he ordered airstrikes against Iran-backed militias in Iraq and Syria and pushed back against members of Congress who questioned whether he should have consulted them about any imminent threat before attacking.
"I directed last night's airstrikes targeting sites used by the Iranian-backed militia groups responsible for recent attacks on U.S. personnel in Iraq, and I had that authority under Article II," Biden said Monday in his first public remarks on the attack, citing the Constitutional provision making him commander in chief.
The pushback on lawmakers came amid debate on Capitol Hill on whether to repeal or replace broad and longstanding authorizations for war in the Middle East. But Biden's remarks indicated that he didn't base his decision on those authorizations, which date back decades.
Speaking in Italy earlier, Secretary of State Antony Blinken said the U.S. strikes signal that the U.S. won't hesitate to protect its interests in the Middle East.
The action should "send a clear and unambiguous deterrent message," Blinken said Monday during a visit to Rome. "I hope very much that it is received by those who are intended to receive it."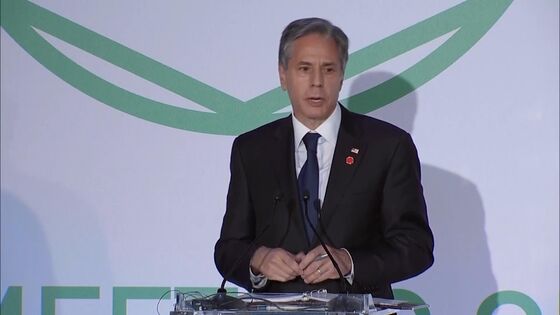 The raids on operational and weapons storage facilities came in response to attacks on U.S. interests and were a "necessary, appropriate and deliberate action" designed to limit the risk of escalation, Blinken said.
In a potential sign that tit-for-tat attacks may continue, multiple rockets were fired at a base used by American troops in eastern Syria Monday night. A spokesman for the U.S.-led Operation Inherent Resolve said there were no injuries in the attack that took place at 7:44 p.m. local time and that damage was still being assessed.
There was no immediate reaction to the Sunday attacks from Iran, where President-elect Ebrahim Raisi's next moves are being closely watched. Iran and world powers have been locked in weeks of talks in Vienna that could see sanctions on the Islamic Republic ease in return for hemming in its contentious nuclear program. Diplomats may meet in the coming days, although no new date has been set.
Oil markets shrugged off the U.S. strikes, with traders focused on a Thursday meeting of the OPEC+ bloc.
The strikes were carried out on two locations in Syria and one location in Iraq. The U.S. has said they were aimed at deterring future attacks on American interests in Iraq, where the U.S. is aiding government forces in efforts to defeat Islamic State.
"The attacks on our troops need to stop," White House Press Secretary Jen Psaki told reporters Monday, citing at least five attacks by armed drones since April. She said some members of Congress were notified in advance of the strikes and that others will be briefed.
The armed drones that are increasingly being used by the militias are more accurate and harder to detect and shoot down than rockets.
"There's no clearer evidence, looking at the technology they have and the markings that they have, that these things might as well just say 'Made in Iran,'" retired Army Brigadier General Mark Kimmitt said in an interview with David Westin on Bloomberg Television's "Balance of Power." "So this is a proxy battle that's being fought by Iran, against Americans inside of Iraq."
"The ultimate campaign of the Iranians is to get the Americans out and make the Gulf region basically under their hegemony. How are they going to do that?" said Kimmitt, who was an assistant secretary of state under President George W. Bush. "They're going to use all of what we call hybrid warfare techniques, whether it's proxy war, whether it's negotiations, cyber attacks, disinformation."
The Iraqi government, which maintains ties to Iran, protested the strikes. A statement posted by an Iraqi military spokesman on Twitter on Monday described them as "a blatant and unacceptable violation" of Iraqi sovereignty and security. "Iraq refuses to be an arena for settling scores" the spokesman said, calling for deescalation.
But the fact that the U.S. hit Iranian proxies outside the country could give both sides a way to avoid escalating tensions.
Iran's hard-line cleric Raisi, who's expected to oppose greater engagement with the West, doesn't take over from Hassan Rouhani until August, but on Monday he and other judiciary officials met with Supreme Leader Ayatollah Ali Khamenei, who ultimately decides foreign policy. Neither leader commented on the strikes.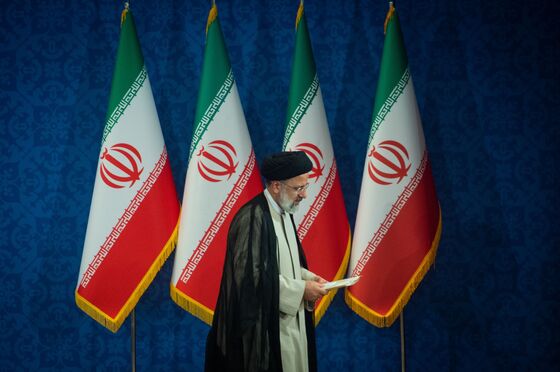 It's not clear how the U.S. strikes will affect the nuclear talks in Vienna.
While diplomats had originally sought to seal the nuclear deal before the election of Raisi, his ascension isn't seen as derailing the talks because that policy is largely decided by the Supreme National Security Council -- usually chaired by the president with its decisions approved by the supreme leader -- and the military.
Even before the military strikes, the indirect talks in Vienna were already dragging past initial timetables. Diplomats are now aiming to seal an agreement before Rouhani hands over power to Raisi. Rouhani and his administration helped seal the original deal that former President Donald Trump quit in 2018.
It's not the first time the Biden administration has carried out such strikes. Biden's first military action as president in February involved raids in eastern Syria on sites connected to Iranian-backed groups following a series of rocket attacks on facilities in Iraq used by the U.S., including one that killed a contractor working with the U.S.-led coalition in the country.
Both of these regional raids are far less provocative than the U.S.'s killing of a top Iranian general, Qassem Soleimani, outside Baghdad's airport in early 2020. That sparked fears of a resurgence of Iranian-sponsored terrorist activities or even a broader war between Iran and the U.S.
Although Biden said lawmakers didn't question his right to invoke the Constitution's Article II to justify Sunday's strikes, Senator Chris Murphy was among those who did.
The Connecticut Democrat said that "the pace of activity directed at U.S. forces and the repeated retaliatory strikes against Iranian proxy forces are starting to look like what would qualify as a pattern of hostilities under the War Powers Act. Both the Constitution and the War Powers Act require the president to come to Congress for a war declaration under these circumstances."
But House Intelligence Chairman Adam Schiff, a California Democrat, said in a statement that "based on what I have learned so far, I believe these were an appropriate and reasonable use of force intended for defensive purposes."
Schiff said the Intelligence Committee will review "the basis for this strike, including an assessment of whether this action will truly deter or prevent further attacks by these militias."