U.S. Health-Stock Bulls Buckle Down Ahead of Midterm Elections
(Bloomberg) -- The momentum behind a rally that's pushing U.S. health-care stocks toward their best quarter in more than five years is showing no signs of breaking, even with a midterm election that could tilt the balance of power in Washington just weeks away.
Despite a 14 percent gain in 2018 and new all-time highs across various sub-sectors, health care is in "an outstanding position," with strong breadth and momentum that should continue to lift stocks, Evercore ISI's head of technical analysis Rich Ross wrote in a research note this week. While indicators including the 14-day relative strength index show health stocks may be overbought, Ross says the group can extend its rally and break above its multiyear downtrend versus the S&P 500 Index.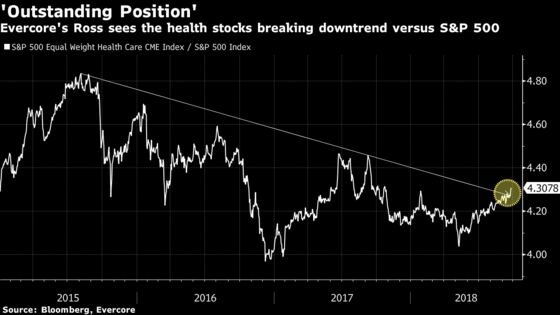 Investors have piled into health care lately for shelter against escalating geopolitical tensions and volatility in high-flying technology stocks. The next test for the sector is looming with the midterm elections six weeks away. While the risk of the government moving to control drug prices has not gone away completely, investors have been warming to the sector as some pharmaceutical companies agreed to reduce costs for some drugs.
Bloomberg Intelligence's chief equity strategist Gina Martin Adams sees the midterms offering relief, not more risk for the sector. "If we have a mixed House, as seems likely, there will be no likely legislative change coming, which improves earnings certainty and predictability for the sector," she said in an email.
Health care is currently the top sector in BI's scorecard, driven by leading scores in earnings trend and revision strength.
The S&P 500 Health Care Index is trading near a record high after gaining more than 13 percent in the third quarter, compared with a 7 percent gain in the benchmark. Stocks on the health-care gauge are trading at an average 16.6 times forward earnings, having erased their discount to the broader market for the first time since January 2016.