U.S. Gasoline Demand Sputters With More Americans Staying Home
(Bloomberg) -- Despite earlier signs of optimism that the worst was over, Americans are using less gasoline as they lock themselves down at home with the virus flaring through the nation's most populous states.
Oil and gasoline consumption had been rising since the near cessation of economic activity at the start of the pandemic drove U.S. crude future prices in April below zero for the first time. Southern states eager to kick start jobs opened before other regions, reigniting demand and, eventually, the virus. The rolling four-week average of gasoline supplied, an indicator of demand, fell 15,000 barrels to 8.63 million barrels a day in the week ending Friday, the first contraction since April, Energy Information Administration data show.
"The increase in gasoline demand has been faltering since the holiday on the Fourth" said Andy Lipow, a Houston oil consultant. "The reason is that we have seen the virus take hold in some key areas."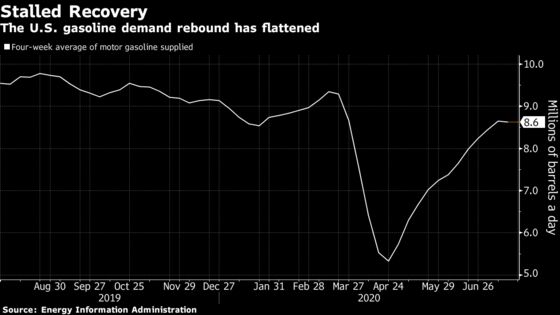 If schools nationwide move to distance learning in the fall, and parents who drove kids to class also stay home, the reduction in demand could be extended further, he said.