Pentagon Says U.S. to Respond to Attack on Iraq Base If Needed
(Bloomberg) -- The U.S. is prepared to respond to a rocket barrage attack on an airbase hosting U.S.-led coalition forces in western Iraq that left an American contractor dead from a heart attack, the Pentagon said in a statement.
There was no immediate claim for Wednesday's attack on Al Asad Airbase, but it was the latest in a spate of attacks that have raised tensions days before a visit by Pope Francis.
If a response is warranted, the U.S. "won't shy away from that," Pentagon spokesman John Kirby said in the statement, adding that the U.S. was unable to attribute responsibility at this time and it does not have a complete picture of the extent of the damage as Iraq investigated the attack. "But we're just not there yet."
There were three other rocket attacks in Iraq recently, Kirby said. A Feb. 15 attack on a base in Erbil wounded a U.S. service member and four U.S. contractors and killed a Filipino contractor, prompting the U.S. to respond with air strikes against Iranian-backed fighters in eastern Syria last week.
Kirby said Wednesday that the aim of that response "was to send a signal about how seriously we take our responsibilities to protect our people."
Neither the U.S. or Iraq want to see this escalate into "a tit for tat," Kirby said. "That is, that's not in our interest. It's not in the Iraqi people's interest."
The Al Asad base was also targeted early last year in an attack that the U.S. blamed on Iran and in which around 100 service members suffered head injuries. Earlier this week an oil tanker off the coast of Iraq discovered a mine attached to its hull.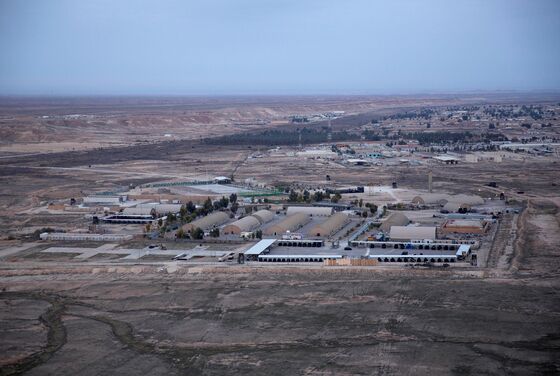 Pentagon Says 110 Members Had Mild Brain Injury From Iran Attack
Major General Tahseen al-Khafaji, a spokesman for Iraq's joint operations command, said in a phone call that Iraqi forces were working to pinpoint where the rockets were launched from.
The attack comes ahead of a visit by Pope Francis to Iraq beginning March 5. The visit will not include western Iraq but will include Baghdad.
Former U.S. President Donald Trump blamed Iran for a rocket attack near the U.S. Embassy in the Iraqi capital in December.