U.S. Factory Output Craters With 'Fundamental Damage' to Sectors
(Bloomberg) -- A measure of U.S. factory output shrank in April at the fastest pace in records back to 1948, prompting a sharp reduction in manufacturing employment as the coronavirus tightened its grip on the economy.
Data from the Institute for Supply Management on Friday showed its measure of factory production plummeted more than 20 points to 27.5, while its employment index also slid to 27.5, the weakest in almost 71 years. Readings below 50 indicate shrinking activity and the latest figures indicate an economy that's rapidly deteriorated into a recession.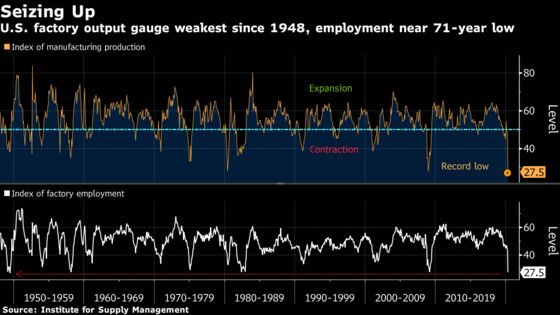 The ISM's headline manufacturing measure fell less than forecast -- a more-moderate 7.6 point decline to an 11-year low of 41.5 -- supported by a further increase in delivery times. While longer lead times can often indicate elevated demand, the highest supplier deliveries index since 1974 reflects virus-related disruptions in supply lines and business closures.
The median forecast in a Bloomberg survey of economists called for a decline to 36 in the overall ISM factory index. Just two industries -- paper products and food -- out of 18 reported growth in April, the fewest in 11 years.
"I think there's been some fundamental damage here to some of the industry sectors and it's going to take a while to rebuild," Timothy Fiore, chair of the ISM's manufacturing survey committee, said on a call with reporters. "Factory output is going to be subdued for quite some time."
U.S. stocks dropped on Friday as investors began May pondering dreary corporate news tied to the coronavirus and a ratcheting up of tension with China.
The supply managers group's index of new orders also weakened substantially last month. The measure fell 15.1 points, the most since 1951, to 27.1. The gauge of manufacturers' inventories, the final component used to calculate the overall ISM index, showed stockpiles declined at a slightly slower pace.
Select ISM Industry Comments

"Production stopped, other than to make hand sanitizer for those in need." -- Chemical Products

"Covid-19 has destroyed our market and our company. Without a full recovery very soon, and some assistance, I fear for our ability to continue operations." -- Nonmetallic Mineral Products

"Covid-19 has created a wave of activities, including vendors closing, vendors focusing only on the medical industry, employees not coming to work, delayed shipments from overseas, etc." -- Transportation Equipment

"The company I work for manufactures personal protective equipment (PPE), specifically N95 masks, face shields, as well as selling protective clothing and hand protection. In the area of PPE, our backlog has spiked to numbers we have never seen."-- Apparel, Leather and Allied Products
Fiore said that 59% of industry comments about labor were related to workforce reduction, and of those, nearly half were about layoffs.
The ISM's export orders gauge dropped to the second-lowest level on record, underscoring weaker trade and collapsing worldwide economies.
The gauge of prices edged down to a more than four-year low on weaker demand for commodities, including crude oil. Disinfectants and personal protective equipment were among goods that were up in price.