U.S. Existing-Home Sales Fall to Lowest Since 2015
(Bloomberg) -- Sales of previously owned U.S. homes eased in September to the weakest pace in almost three years, a sign rising prices and mortgage costs are keeping potential buyers on the sidelines, National Association of Realtors data showed Friday.
Highlights of Existing-Home Sales (September)
Contract closings fell from the prior month to 5.15m annual rate, the lowest since Nov. 2015 (est. 5.29m)
Median sales price rose 4.2% y/y to $258,100
Inventory of available properties edged up 1.1% y/y to 1.88m
The sixth-straight monthly drop in sales, the longest streak since 2014, underscores what's now a challenging time in the real estate market for buyers. The average mortgage rate for a 30-year fixed term has advanced nearly 1 percentage point this year, compared to a decline in 2017, according to Bankrate.com data.
The drag from higher mortgage rates is "likely to weigh on the existing home sales data in upcoming reports over the next several months," Daniel Silver, an economist at JPMorgan Chase & Co., said in a note.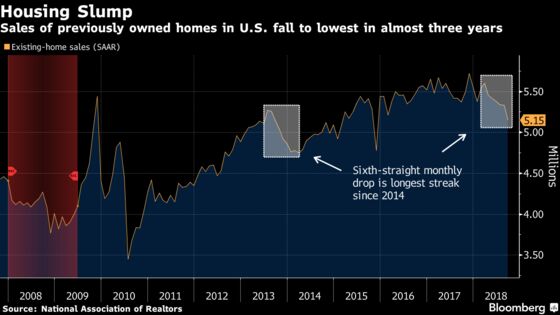 Rising prices are also keeping homes unaffordable, particularly for first-time buyers. Those price gains are fueled by demand -- homes stayed on the market for only 32 days on average, compared with 34 days a year earlier. There's also a lack of supply, with inventories ticking up yet remaining tight.
"There is without a doubt a clear shift in the market as evidenced by lower sales and higher inventory," Lawrence Yun, NAR's chief economist, said at a briefing accompanying the release of the report. The shift reflects a cooling in the market from recent highs and Americans digesting the higher cost of a mortgage, he said, adding that the decline in closings was the biggest since early 2016.
At the same time, tax cuts and a tight jobs market -- keeping people steadily employed and helping lift wages -- should continue buoying some buyers. Yun said that the positive effects have been canceled out by the rising burden of mortgage rates.
Hurricanes may have impacted sales data by curbing home-buying plans and transactions, though the latest storm impacted a small share of deals, NAR said. Florence's landfall in North Carolina in mid-September came about a year after Irma battered Florida.
A gauge of homebuilders in the S&P 500 fell 1.8 percent as of 11:30 a.m. in New York, bringing it to the lowest level since March 2017 as almost all 15 members slumped.
"New housing construction faces headwinds in the way of rising labor and input costs, which has also put upward pressure on home prices," Shernette McLeod, an economist at TD Economics, wrote in a note.
What Our Economists Say 
Improving household income prospects should help at least partially offset higher financing costs over the next several quarters. Even so, the pace of housing transactions is likely to continue to ease off as the economic cycle matures.

-- Carl Riccadonna and Yelena Shulyatyeva, Bloomberg Economics
Purchases fell in three of four regions, led by a 5.4 percent slump in the South; Midwest sales were unchanged from the prior month
The decline in sales cut across price categories with the least expensive homes, those under $100,000, slumping 18.3 percent from a year earlier, while those at more than $1 million cooled by 1.6 percent, the most in two years
Sales of single-family homes and condominium and co-op units both dropped 3.4 percent from the prior month
At the current pace, it would take 4.4 months to sell the homes on the market, compared with 4.3 months in August; Realtors group considers less than five months' supply consistent with a tight market
Existing home sales account for about 90 percent of the market and are calculated when a contract closes. The remainder of the market is made up by new home sales, which are considered a timelier indicator and are tabulated when contracts get signed