U.S. Economic Data Suggest Positive Momentum in Second Quarter
(Bloomberg) -- A slew of U.S. economic reports out Tuesday gave mostly positive signals on second-quarter growth following an unexpectedly strong expansion in the first three months of the year.
While first-quarter employee compensation, March pending home sales and April consumer confidence all showed solid readings, a gauge of Chicago business activity fell to a two-year low. Meanwhile, home prices in 20 cities rose in February at the slowest pace since 2012.
For domestic consumption, "these numbers tell you that the second quarter is going to look bright," said Jacob Oubina, senior U.S. economist at RBC Capital Markets LLC. He said the weaker reading on the Chicago measure may be due to severe flooding in the Midwest.
Here are the key takeaways from the data:
Employment Cost Index (1Q)
U.S. employment costs held up at a steady pace in the first quarter as wages firmed, signaling some buildup of inflationary pressures that could still spur pickups in otherwise-muted price gauges. The Labor Department's broad measure, which is monitored by the Federal Reserve, increased 0.7 percent in the January-to-March period from the prior quarter, matching economist estimates. The gauge increased 2.8 percent from a year earlier, slower than the fourth quarter's pace but slightly above the year-earlier rate.
Read the Bloomberg Economics take here: Inflation Dead? ECI Liftoff Strongest in a Decade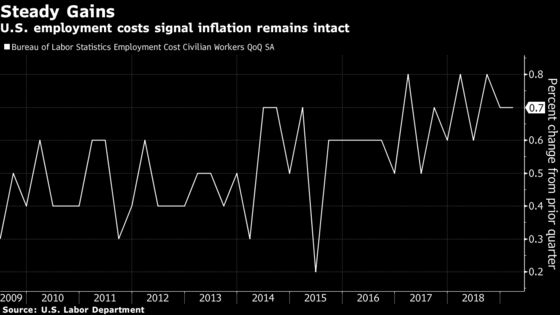 Consumer Confidence (April)
The Conference Board's index rebounded and topped projections as Americans felt more optimistic about present and future economic conditions, underscoring how a tight labor market and higher wages are underpinning attitudes amid some uncertainty. Even so, the report contrasts with a decline in the University of Michigan's April sentiment gauge.
Read the Bloomberg Economics take here: Confidence Implies Lower Unemployment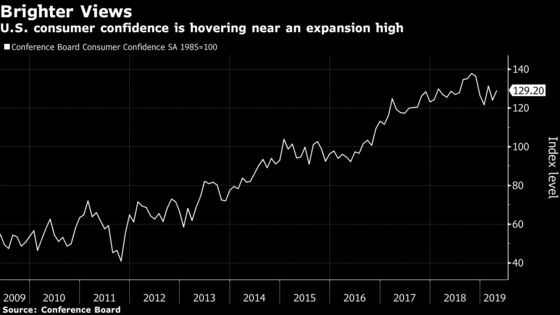 Pending Home Sales (March)
Contracts to purchase previously owned U.S. homes jumped by more than forecast amid a surge in the West, adding to signs of stabilization in housing. The data suggest sustained wage gains, lower mortgage rates and more affordable options are attracting home buyers, though contracts were still down 3.2 percent from a year earlier. Pending home sales are seen as a leading indicator of existing home sales, which make up 90 percent of the market.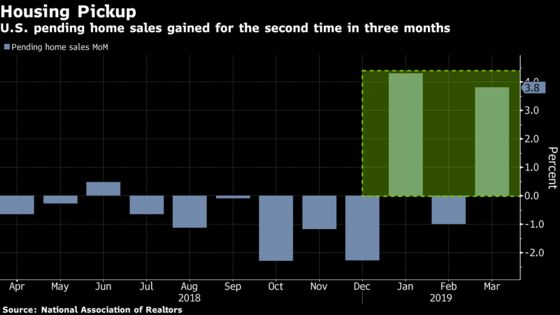 MNI Chicago Business Barometer (April)
The gauge of manufacturing and other business in the Chicago region fell to the lowest level since January 2017 amid a significant pullback in production and weakness in employment, signaling the global economic slowdown may be weighing on corporate demand. Regional Fed factory indexes have also shown softness, with the Dallas bank's gauge at a three-month low and declines across indexes from the Richmond, Kansas City and Philadelphia districts.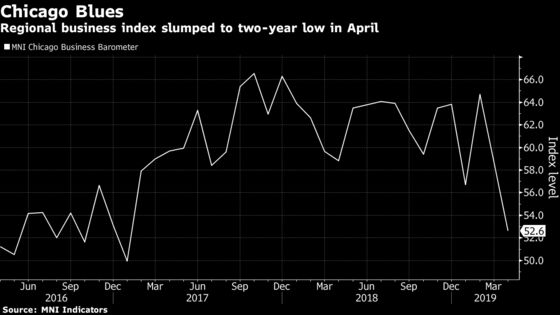 S&P CoreLogic Case-Shiller Home Prices (Feb.)
The index of property values in 20 cities increased 3 percent from a year earlier, matching projections, after 3.5 percent in the prior month, data showed Tuesday. Nationally, home prices decelerated to a 4 percent increase, also the smallest gain since 2012. Even so, price gains may pick up in the coming months amid signs of strength in demand.