Bond Trader Jesse Litvak's Ordeal Ends as Fraud Case Dropped
(Bloomberg) -- The five-year legal odyssey of former Jefferies Group LLC managing director Jesse Litvak, who was jailed for fraudulent bond-trading tactics until an appeals court freed him, came to an end after prosecutors said they don't intend to try him yet again.
Litvak's arrest in 2013 sent shock waves through Wall Street and led to the resignations and suspensions of dozens of traders. But the crackdown stalled spectacularly in May when the Second Circuit Court of Appeals vacated Litvak's conviction for a second time, just hours before a jury acquitted a former Cantor Fitzgerald LP bond trader accused of similar conduct.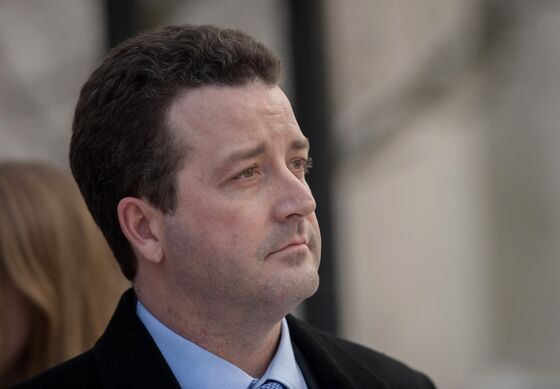 "Dropping it at this point makes sense," said Peter J. Henning, a former federal prosecutor and a law professor at Wayne State University in Detroit. "I expect the U.S. Attorney read the tea leaves in the Second Circuit opinion that any conviction was unlikely to survive."
It wasn't immediately clear how the government's decision will affect the pending cases of two former Nomura Holdings Inc. traders or of two former Royal Bank of Scotland Group Plc traders who pleaded guilty. Under an agreement with prosecutors, the two RBS traders are allowed to withdraw their pleas if Litvak is ultimately cleared.
Litvak, the first person charged in the federal crackdown on questionable bond-trading tactics, didn't respond to a request to his lawyer for comment. His lawyer, Kannon Shanmugam, declined to comment, as did Thomas Carson, a spokesman for Connecticut U.S. Attorney John H. Durham.
Litvak, 43, was twice convicted by Connecticut juries on charges that he lied to clients about mortgage-bond prices while negotiating trades. In both instances, the Manhattan-based appeals court tossed the conviction on technical legal grounds, while also finding that there was evidence to support the guilty verdicts.
He was freed from a Florida prison in May, after serving more than seven months of a two-year sentence.
On Thursday, Durham cited the appeals rulings in asking the judge to throw out the one remaining count against Litvak. "In light of the totality of the circumstances unique to this case, the government has concluded that the interests of justice would not be served by a third trial," Durham wrote in a brief filing. A judge must still approve the request.
Henning said the dismissal signals that prosecutors' oversight of the bond market is limited.
"Like any negotiation, neither side will be completely truthful, so proving fraud may not be possible in an arms-length negotiation," Henning said. "The firms are going to be much more watchful of their traders, but this really means that reputation will be more important than the criminal law in policing the market."
The dismissal indicates that the Justice Department is no longer focused on financial markets, said Robert C. Hockett, who teaches about organizational and financial law at Cornell Law School.
"It looks like we are returning yet again to the days of caveat emptor, with the securities laws in effect being interpreted out of existence," Hockett said.
Litvak's wasn't the only case to falter. A judge in June threw out the conviction of former Nomura Holdings Inc. trader Michael Gramins, who was convicted of conspiracy last year.
Another ex-Nomura trader, Ross Shapiro, was found not guilty of eight fraud counts while the jury deadlocked on a single count of conspiracy, and a third trader was cleared of all charges. Prosecutors have appealed the decision to grant Gramins a new trial. Lawyers for the two men declined to comment or didn't respond to requests for comment.
The defendants were all accused of misrepresenting the prices their companies had paid for mortgage bonds -- or how much they were able to sell them for -- to increase their firms' commissions. The traders argued that their lies weren't material, or important enough to influence their customer's investment decisions.