U.S. Covid Hospitalizations on Cusp of First Decline in Months
(Bloomberg) -- The number of hospitalized Covid-19 patients was roughly flat in the U.S. this week, and likely will begin declining for the first time since September.
The numbers are now dropping compared with a week earlier in both the Northeast and Midwest, according to the Covid Tracking Project. In the West, they were up 0.8%, the least since Oct. 1 on a percentage basis. The South has the most alarming momentum, with an increase of 4.2% from seven days earlier.
The most recent pandemic wave has packed medical facilities, which are desperate for a reprieve. Hospitals across the country are currently caring for more than 130,000 Covid patients, according to Tracking Project data, more than double the load at any earlier point.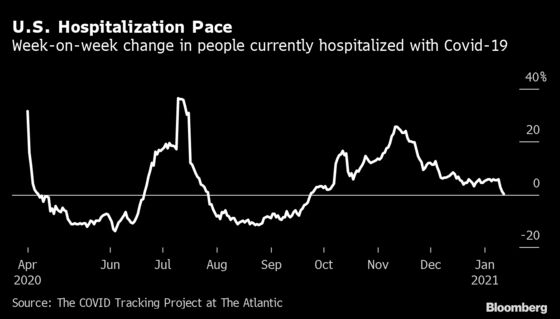 Though encouraging, the trend reflects a slowdown from an extremely swift pace -- and may not last. The holiday incubation period is just now ending, and unmasked mobs at the U.S. Capitol and massive crowds celebrating a football victory in Tuscaloosa, Alabama, likely spread the virus in recent days. At least 10 states have reported a total of 72 cases of a new, more contagious variant.
The country posted 213,885 Covid-19 cases on Tuesday, pushing the seven-day average to 246,133, Covid Tracking Project data show.
At least 380,825 people have died, according to Johns Hopkins University data.
According to Tracking Project data:
No states reported record cases Tuesday.
Arizona has the most residents currently hospitalized with the virus per capita, at 698 per million.
Arizona also had the most new cases per million at 1,176, followed by Wyoming.