U.S. Core Inflation Remains Subdued on Cars, Medical Goods
(Bloomberg) -- A key measure of U.S. consumer prices remained subdued in January as accelerations in shelter costs and apparel were offset by weakness in used vehicles and medical-care goods.
The core consumer price index, which excludes volatile food and energy costs, rose 0.2% from the prior month, and 2.3% from a year earlier, a Labor Department report showed Thursday. The monthly reading matched estimates while the broader CPI increased 0.1%, less than forecast, as the annual measure rose 2.5%, exceeding estimates.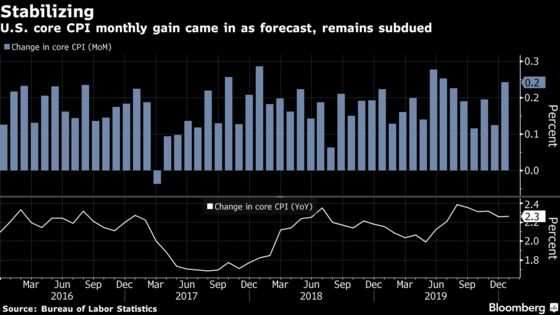 The data signal sluggish price gains may endure in coming months, an unwelcome prospect for Federal Reserve officials after inflation ran below their goal for all of last year. Persistently low inflation has disappointed policy makers for much of the record-long economic expansion.
Shelter costs, which make up about a third of total CPI, strengthened with a 0.4% rise from the prior month. Owners-equivalent rent, one of the categories that tracks rental prices, increased 0.3% while rent of primary residence was up 0.4%. Apparel prices, which tend to be volatile on a month-to-month basis, increased 0.7%.
Used-car prices dropped 1.2% for a fourth straight decline while medical-care commodities dropped 0.6% for the first decline since September.
Energy prices decreased 0.7% from the prior month as gasoline prices dropped 1.6%, weighing on the overall CPI reading. Food costs climbed 0.2% for a second straight month.
The CPI tends to run higher than the Commerce Department's personal consumption expenditures price index, which the Fed officially targets for 2% annual gains. The core PCE index policy makers watch for a better read on underlying trends also has seen subdued gains for the last year.
Fed Chairman Jerome Powell has often warned of the self-fulfilling prophecy for below-target inflation weighing on expectations and pulling down actual price increases. He told lawmakers this week that the Fed expects inflation to move up closer to 2% over the next few months as unusually low readings from early 2019 fall out of 12-month calculations.
Meanwhile, the University of Michigan's measure of Americans' expectations for inflation in five to 10 years rebounded in January to 2.5% from a record-low of 2.2% in the prior month.
Government data also showed average hourly earnings, adjusted for price changes, rose 0.6% in January from a year earlier.
A separate Labor Department report released on Thursday showed U.S. filings for unemployment benefits remained near a historically low level. Jobless claims increased by 2,000 to 205,000 last week, while the four-week average held at 212,000.