American Coal's Asian Savior Is a Fantasy
(Bloomberg Opinion) -- Fear not, coal miners of America! The U.S. military is coming to your aid.
The Trump administration is looking at using naval facilities or other federal properties to open up exports of thermal coal from the Great Plains of Wyoming and Montana to the energy-hungry populations of East Asia, Secretary of the Interior Ryan Zinke told the Associated Press in an interview this week.
In theory, that would solve a long-standing gripe of the U.S. coal industry: That state governments in Washington, Oregon and California are blocking their route to the ocean by refusing to approve coal terminals.
It's certainly true that America has an extraordinarily rich endowment of the black stuff, which is at risk of becoming stranded as domestic generators, its main customers, switch to gas and renewables. The North Antelope-Rochelle and Black Thunder pits run by Peabody Energy Corp. and Arch Coal Inc. are among the world's biggest mines of any sort, with the former turning out close to 100 million metric tons a year.
The trouble is, it's a lot more than coastal liberals that are stopping Asian consumers from buying American coal.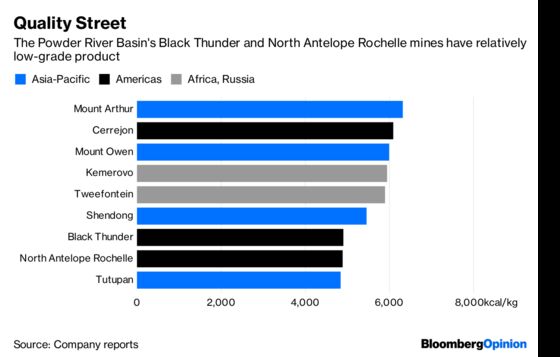 For one thing, the stuff mined in Wyoming's Powder River Basin tends to be pretty low-quality, with heating values that are typically below 5,000 kilocalories per kilogram. That barely cuts it in Asia: The Australian product that's preferred by generators in Japan, South Korea and Taiwan is typically of 6,000 kcal/kg or more, and even the lower-energy Indonesian coals imported to India and China mostly range between 5,000 kcal/kg and 5,500 kcal/kg.
Then there's the distance. Just getting Powder River coal to the U.S. West Coast involves a rail journey of about 1,200 miles (1,900 kilometers). The U.S. Energy Information Administration doesn't publish exact figures for rates on that route because there are so few players. (If it it did, it would end up disclosing company data.) But you can get an idea of the cost by looking at the $25 a short ton to $30 a short ton price of shifting it to Louisiana or Michigan, a roughly similar distance.
Then there's ocean freight. Again, there's so little coal trade between the West Coast of North America and Asia that it's hard to find a precise figure, but the best guess is that the 5,300-nautical-mile trip will cost about 50 percent more than the 3,540-nautical-mile journey from Hampton Roads at the mouth of the Chesapeake to Rotterdam. That suggests a price in the region of $15 a metric ton on a Capesize coal ship.
On top of that there's the cost of production at the mine itself. Peabody, which has some of the biggest pits and went through the efficiency boot camp of Chapter 11 bankruptcy not so long ago, would be a decent proxy for that, and its operating costs are around $10 a short ton in the Powder River – phenomenally low by global standards.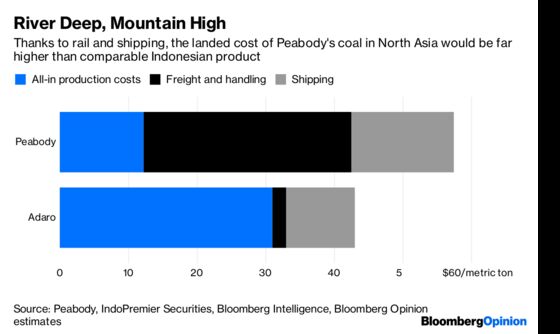 Put those three numbers together and add a few dollars for port and loading charges, depreciation, selling costs, interest, and asset-retirement expenses, and you get a figure of around $57 a metric ton for deliveries to Qinhuangdao, China's main coal port. 
That doesn't look so great. Adaro Energy Tbk, an Indonesian miner whose coal would be considered at least as good as the Powder River Basin's, has equivalent costs that have been in the low $40s a ton for years. Moreover, as we've written, if Asia continues consuming thermal coal in the medium term at all, it's likely that China and India will gradually look to use higher-quality product to stop their cities from choking on smog, posing problems for both Indonesian and Powder River sellers.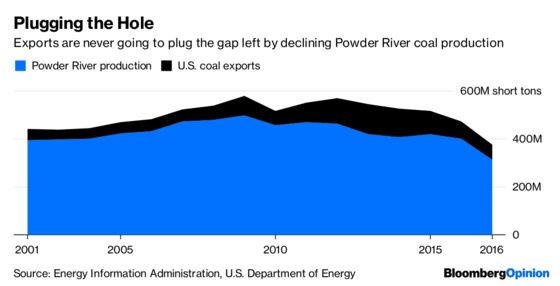 The brutal truth is that even in a best-case scenario Asian coal demand would never be able to replace the production that's going from the Powder River, which lost about 100 million short tons of output between 2014 and 2016 alone – greater than the total volume of U.S. coal exports.
As renewables and gas undermine the economics of coal generators and governments work to avert the worst consequences of climate change, the world's coal miners are increasingly fighting over a dwindling pool of demand. Only the fittest will make it. The Powder River, long protected in the redoubt of the domestic U.S. market, will never survive on the open ocean.
This column does not necessarily reflect the opinion of the editorial board or Bloomberg LP and its owners.
David Fickling is a Bloomberg Opinion columnist covering commodities, as well as industrial and consumer companies. He has been a reporter for Bloomberg News, Dow Jones, the Wall Street Journal, the Financial Times and the Guardian.