Your Next Bike Will Probably Cost More
(Bloomberg) -- As the U.S. industry braces for the Trump administration's proposed tariffs on Chinese-made bicycles and parts, neither U.S. producers nor retailers are happy with them.
On the surface, a 10 percent duty on competing products from China would seem helpful for a company like Detroit Bikes, one of the few made-in-America brands left in an industry that has largely moved to Asia. But for Zak Pashak, the owner of the company that produces up to 150 customized bikes a day in its namesake city, the tariff is too low to make a difference.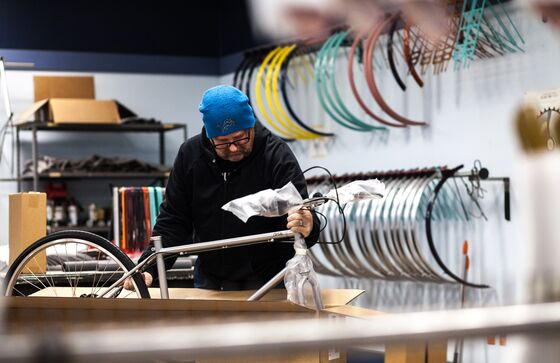 "If it's going to be successful in actually reviving an industry, and not just for show, then I think there are further steps that need to be made," Pashak said, suggesting that the U.S. should mimic Europe's even higher tariffs that have protected much of the industry.
Meanwhile, with about 95 percent of all bikes imported into the U.S. coming from China, according to data from the U.S. Department of Commerce, the tariffs would make almost every other bicycle sold in the country more expensive. Retailers such as Manhattan's NYC Velo, which sells bikes ranging from $400 to $15,000, will be reluctantly forced to raise their prices.
"I don't look forward to that; the last thing I want to do is disappoint my customers for any reason, most of all with pricing at the cash register," said Andrew Crooks, owner of NYC Velo. "But frankly, we're the faces of these changes."
The industry's uncertain outlook underscores how the tariffs on a broad swath of Chinese goods -- intended to reduce the Asian nation's trade surplus with the U.S. -- may result in higher prices for consumers and few tangible employment benefits.
If implemented after a comment period in August, the duties may create a damaging cycle in which higher prices deter consumers and cause the entire industry to shrink, according to Lynette Carpiet, editor in chief of Bicycle Retailer & Industry News. Bike producers, meanwhile, would likely just shift production to other Asian nations like Taiwan, Cambodia or Vietnam, instead of investing in domestic production.
"It would require a big investment for companies to set up assembly or manufacturing here and a big risk if tariffs are removed in the future," said Carpiet, who has covered the industry for almost two decades.
Kent International, which assembles 400,000 bicycles a year at its factory in Manning, South Carolina, says it's the biggest bike manufacturer in the U.S. Chief Executive Officer Arnold Kamler said the tariffs, which would represent a "microscopic advantage for us," are causing some peers to consider moving production to Cambodia.
"Many people are looking at other countries," Kamler said in an interview, noting that a Cambodian bike maker selling to the U.S. could still be using parts from China.
The U.S. Trade Representative, which will hold a public hearing on the tariffs from Aug. 20 to 23, lists fully assembled bikes and their components, including wheels, tires, brakes, tubes, speedometers and other parts. The fact that both parts and fully assembled bicycles may be hit by the tariffs complicates the picture further, since even some domestic producers depend on pieces from China.
"The bicycle industry overall really relies on a global supply chain," said Katy Hartnett, the director of government relations at PeopleForBikes, a bike advocacy group that is currently analyzing the scope of potential impact on the industry. "Those that are manufacturing domestically are still using that global supply chain for their component parts."
Kent's Kamler said his South Carolina plant could easily triple production and boost its workforce to about 400 from the 167 it employs today -- if the tariff on whole bikes goes into effect and the U.S. government also provides an exemption on components.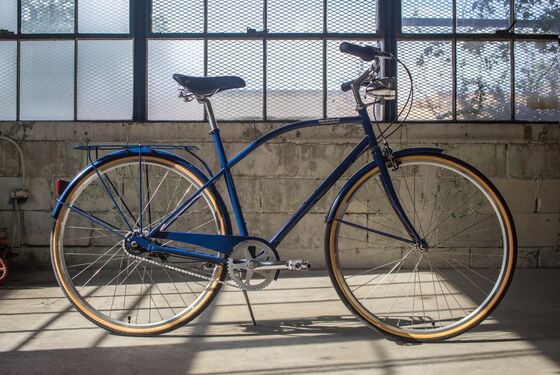 Pashak of Detroit Bikes echoed that sentiment and pointed to Europe's thriving bicycle industry, which supports tens of thousands of workers. If the U.S. were to imitate Europe's duties on fully assembled bikes while lowering tariffs on individual parts, Pashak said he would employ 200 to 300 workers in his Detroit factory that currently has 20 to 80 workers on a cyclical basis.
In the 1970s, domestic production of bikes was more than 15 million per year, spearheaded by Schwinn Bicycles Inc. But the industry's exodus to Asia began in the 1980s and steadily increased in the following decades.
"We've already killed and destroyed our bike industry," Pashak said. "It's not like it comes back overnight."