U.S. Bankruptcy Tracker: Coal's a Canary in the Mine for Energy
(Bloomberg) -- Coal is suffering one of its worst years ever for bankruptcy, highlighting credit risk in the U.S. energy sector.
Four of this month's seven Chapter 11 filings were from energy -- including two coal producers -- as troubled debt from the sector continued to grow, despite easing distress in other industries. Seven large U.S. coal companies have sought protection from creditors this year.
The disruption is likely to persist amid a transition to alternative energy, given the high cost of extracting coal and changing policies from a new U.S. administration, according to Ryan Dahl, partner at law firm Ropes & Gray LLP.
"Challenges facing the energy market, and coal in particular, haven't gone away," Dahl said in an interview.
Peabody Energy Corp., the biggest U.S. coal producer, warned last month that it may go bankrupt for the second time in less than five years.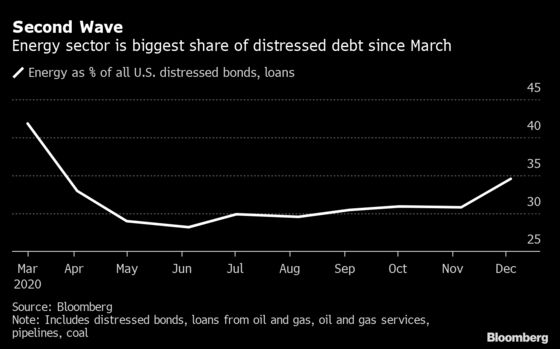 This month's new energy filings included Seadrill Partners, an owner and operator of offshore drilling rigs. Coal companies Lighthouse Resources Inc. and White Stallion Energy LLC both sought court protection after the Covid-19 pandemic depressed coal prices.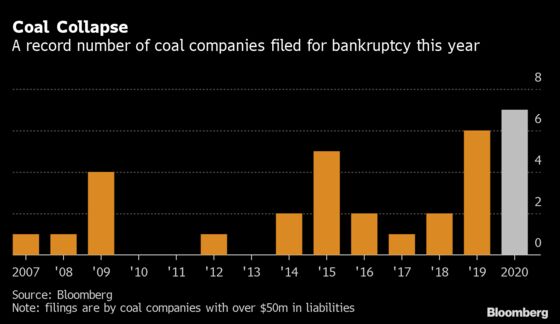 "The sector is directly tied to the broader economy and filings will come and go in waves," said Brian Resnick, restructuring partner at Davis Polk & Wardwell LLP, referring to energy.
Monday's filing by Superior Energy Services Inc. pushed the 2020 volume of U.S. energy bond defaults to $28.3 billion, according to Fitch Ratings. The energy industry's trailing 12-month high-yield default rate rose to 15.6% -- the highest since March 2017 -- and energy comprises 35% of Fitch's top bonds of concern, the most of any sector.
The volume of troubled oil and gas sector debt increased 5.4% to about $50 billion as of Dec. 4, according to data compiled by Bloomberg. That jump came even as the total amount of traded distressed bonds and loans shrank 8.1% to about $184 billion.
Click here for a worksheet of distressed bonds and loans
The overall volume of distressed debt is back to pre-pandemic levels, following a spike to $935 billion in March, according to data compiled by Bloomberg. Troubled bonds and loans declined 7.9% and 8.6%, respectively, in the latest week. ​
There have been 232 bankruptcy filings year-to-date by companies with more than $50 million in liabilities, according to data compiled by Bloomberg. That's the most since 2009, when there were 277 in the comparable period.
Read more: The Covid Bankruptcies: Guitar Center to Helicopter Charters
There were 435 distressed bonds from 224 issuers trading as of Monday, up from 419 and 223 the previous week. That's significantly less than the 1,896 deals from 892 companies at the March 23 peak.
Ligado Networks LLC had the most distressed debt of issuers that hadn't filed for bankruptcy as of Dec. 4, data compiled by Bloomberg show.
| Top 5 Distressed Issuers | Debt ($B) |
| --- | --- |
| Ligado Networks LLC | 7.0 |
| Transocean Inc | 5.5 |
| American Airlines Inc | 4.6 |
| AMC Entertainment Holdings Inc | 4.4 |
| Crown Finance US Inc | 3.3 |
Several distressed companies have significant dates approaching. GTT Communications Inc.'s lender forbearance nears its end and both Transocean Ltd. and Ferrellgas Partners LP have payments due.
Read more: AMERICAS DISTRESSED WATCH: GTT, Transocean, Ferrellgas