U.S. Bankruptcy Tracker: Advisers Hit Texas as Generators Fall
(Bloomberg) -- Bankruptcy advisers are flocking to Texas, where power generators have been left vulnerable by continued fallout from last month's weather crisis.
Power generators that were contractually obligated to buy and deliver power at high prices -- even if their own plants went off-line in the storm -- are under pressure, according to Daniel Sinaiko, partner at law firm Allen & Overy. Generators that "run on the knife's edge," with a lot of leverage and little room for error, "have fallen into the ditch, and they're going to have trouble getting out," he said.
Griddy Energy LLC was the latest big Texas casualty, filing for Chapter 11 Monday with a plan to liquidate. The power retailer's Chief Executive Officer Michael Fallquist said the Electric Reliability Council of Texas "destroyed" Griddy's business and harmed customers. Ercot expelled Griddy from the state power market after last month's severe weather.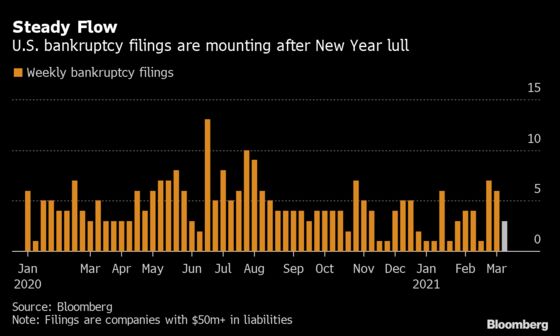 Unlike Brazos Electric Power Cooperative, the other Texas power retailer to file for bankruptcy since the start of the month, Griddy passes fluctuating power prices onto consumers. That left some customers with very high power bills, whereas Brazos went under after facing multibillion dollar invoices of its own.
In the week to March 13, three companies with at least $50 million of liabilities filed for Chapter 11 bankruptcy, according to data compiled by Bloomberg. Publicly traded driller Sundance Energy Inc., plastic recycler CarbonLite Holdings and a unit of Medley Management Inc. all sought court protection from creditors.
Energy companies Nine Point Energy Holdings Inc. and Highpoint Resources Corp. filed in the following days, pushing year-to-date bankruptcies from the sector to the highest since 2017, data compiled by Bloomberg show.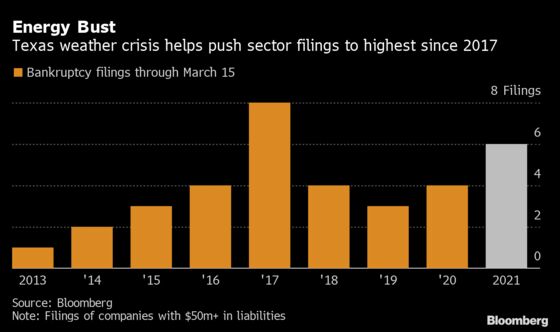 "Action is picking up in the restructuring world," said Lucy Kweskin, partner at law firm Mayer Brown. That follows a period of "irrational exuberance" in debt and equity markets, when a company could be failing and still gets access to capital, she said.
The restructuring and turnaround pipeline shows little signs of slowing, "particularly for rent-related sectors like retail, health care, restaurants and franchises with units and leases," SierraConstellation's Perkins said.
The amount of traded distressed bonds and loans fell to about $95 billion as of March 12 -- down 6% week-on-week. Troubled bonds dropped 9% while distressed loans increased 2%.
Click here for a worksheet of distressed bonds and loans
There were 257 distressed bonds from 133 issuers trading as of Monday, according to Trace data. That's less than a week earlier, when there were 267 bonds from 142 issuers, and well below the 1,896 troubled bonds at the March 23 peak.
Diamond Sports Group LLC had the most distressed debt of issuers that hadn't filed for bankruptcy as of March 12, Bloomberg data show.
| Top 5 Distressed Issuers | Debt ($B) |
| --- | --- |
| Diamond Sports Group LLC | 8.0 |
| Transocean Inc | 4.2 |
| Odebrecht Offshore Drilling Finance | 2.5 |
| GTT Communications | 2.3 |
| Digicel Group | 1.9 |
Click here for more news on distressed debt and bankruptcy. First Word is curated by Bloomberg editors to give you actionable news from Bloomberg and select sources, including Dow Jones and Twitter. First Word can be customized to your Worksheet, sectors, geography or other criteria by clicking into Actions on the toolbar or hitting the HELP key for assistance.