U.S. Bank CEOs See Fed Staying the Course After Market Chaos
Leaders of the biggest U.S. banks don't see 2018's wild ending as reason enough for the Federal Reserve to reverse course.
"Some people in the market are predicting a rate cut this year, but I don't see that happening," Morgan Stanley Chief Executive Officer James Gorman said in a Bloomberg Television interview in Davos, Switzerland. "But I certainly don't see three or four increases. My personal projection is it will be one or two."
The year ended chaotically for markets after a 2018 that saw the Fed increase rates four times, and many investors have scaled back their expectations for hikes in 2019 amid signs of slowing global growth. Lending margins have benefited from higher interest rates, but fears abound that tightening too quickly may strangle expansion.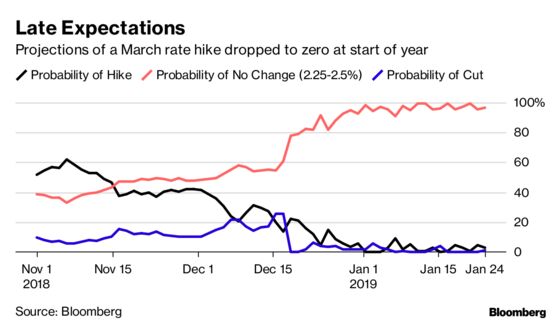 The Fed would do well to take market sentiment into account, Gorman said.
"As we get further into this rate-increase hike period, the more the tilt should be toward what the market is able to absorb," he said. "Because that will change sentiment, and that ultimately changes behavior, and that changes economic outcomes."
Macroeconomic fundamentals in the U.S. remain robust, according to Bank of America Corp. CEO Brian Moynihan.
"Right now, the data in December's strong enough for another rate rise," he told Bloomberg Television on Wednesday.
Rather it is political factors like trade disputes and the government shutdown in the U.S. that have increased uncertainty.
"The Fed will look at what's going on, and my guess is they will probably pause now," JPMorgan Chase & Co. CEO Jamie Dimon told CNBC in an interview Wednesday. "But if they raise rates again in six months because we're growing at 2.5 percent, that's still a good thing."