U.S. Arrests Ex-Peru President as Corruption Probe Widens
(Bloomberg) -- Peru's ex-president Alejandro Toledo, wanted in his home country on corruption charges, was arrested in the U.S. on an extradition warrant, authorities said.
U.S. Marshals captured Toledo Tuesday morning, and he later appeared before U.S. judge, who set a hearing for Friday morning, the Justice Department said in an emailed statement.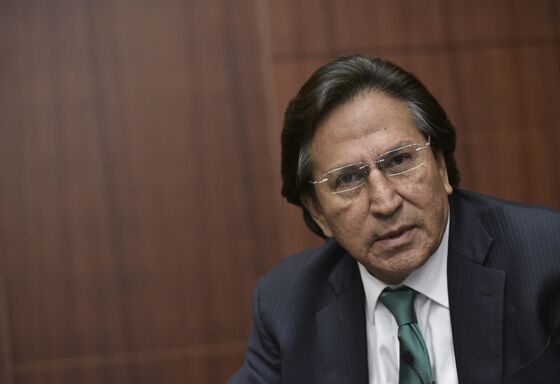 Toledo faces charges in Peru of taking money from Odebrecht SA, a Brazilian construction company that carried out a continent-wide bribery scheme. Toledo's lawyer, Heriberto Benitez, told RPP radio in Lima that the case was before a U.S. judge, but that the extradition request had not necessarily been approved. He said the case was politically motivated and that his client's due process rights had been violated.
The corruption probe has already ensnared three of Toledo's successors. Ex-President Pedro Pablo Kuczynski is accused of helping Odebrecht win two infrastructure contracts while serving as a minister in Toledo's government. Ollanta Humala and his wife were charged with money laundering. They have all denied wrongdoing. In April, Alan Garcia, president from 2006-2011, killed himself as police came to arrest him on accusations of graft.
Prosecutors requested 16 and a half years of prison for Toledo and his wife, according to newspaper El Comercio. He had previously denied allegations of wrongdoing.
Toledo, who was president from 2001 to 2006, was living in California, where he served as a visiting scholar at Stanford University in 2017, the Associated Press reported.