Airlines Rally as American, Southwest Rekindle Expectations
(Bloomberg) -- U.S. airlines rallied as American Airlines Group Inc. and Southwest Airlines Co. predicted strong revenue gains after surpassing Wall Street's profit estimates late last year.
American vowed to outperform rivals in charging higher fares this year as it adds flights at hubs where it dominates traffic, such as Charlotte, North Carolina, and Dallas-Fort Worth. Southwest said it was benefiting from strong demand for lucrative business travel and healthy prices for last-minute tickets.
The healthy forecasts contrasted with muted investor expectations for airlines, which have been trailing the broader market amid concerns about pricing power and the impact of the U.S. government shutdown. Shareholders had been bracing for a gloomy earnings season after American and Delta Air Lines Inc. warned earlier this month that they were struggling to raise fares.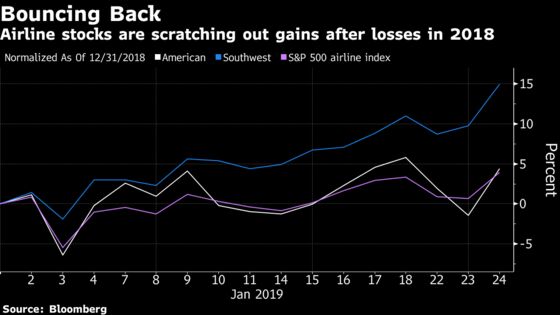 But American's latest report suggests that 2019 is "setting up to be a good year,'' Helane Becker, an analyst at Cowen & Co., said in a report.
American surged 6.1 percent to $33.58 at 9:37 a.m. in New York after advancing as much as 8.5 percent for the biggest intraday gain in four weeks. Southwest climbed 4.4 percent to $53.26. JetBlue Airways Corp., which also topped analysts' expectations for fourth-quarter profit, climbed 2.5 percent to $17.67.
For more on American's earnings report and outlook, click here
For more on Southwest's earnings report and outlook, click here
Southwest predicted a gain of as much as 5 percent this quarter in revenue for each seat flown a mile, a gauge of pricing power. The outlook exceeded American's and topped forecasts earlier this month from Delta and United Continental Holdings Inc.
The prediction by Southwest "tops even the most bullish of expectations," said Jamie Baker, an analyst at JPMorgan Chase & Co., in a note to clients.