U.K. Told to Scrutinize Biomass Use by Power Industry
(Bloomberg) -- The government should increase its scrutiny of where biomass is coming from and ensure it isn't used where low-carbon energy alternatives are available, a panel of lawmakers in the U.K. parliament said.
The influential Committee on Climate Change, which advises government on energy and environment policies, said there may not be enough supply of biomass to satisfy users in all the industries that want to use it.
Biomass is waste organic material such as wood pellets commonly used for power generation and heating. It's also employed in construction, industry and transport. Drax Plc is burning it to make electricity at what used to be the U.K.'s biggest coal plant.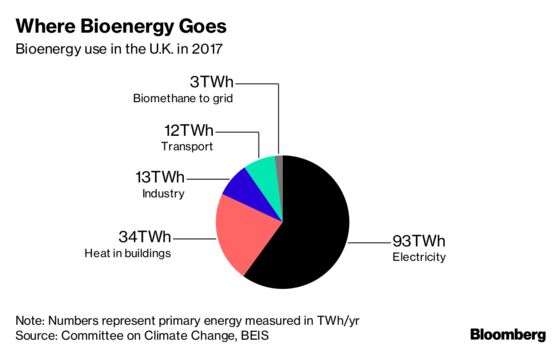 "Most current uses of biomass do not sequester carbon and are in sectors where there are increasingly other viable low-carbon alternatives," the committee said in the report, referring to the storage of carbon dioxide emissions. "Current uses of biomass will need to change."
Biomass is classified as a source of renewable energy in Britain and existing power plants burning the fuel are entitled to subsidies called Renewable Obligation Certificates.
New biomass stations aren't entitled to the support but that hasn't halted conversions. Drax has converted four of its six coal units to use biomass after the government ruled it was allowed to apply the subsidies across the station rather than to individual units.
Drax's subsidies run out in 2027. After that, biomass should only be allowed with carbon capture and storage, the committee said in the report.
"Sustainably sourced biomass will play an essential, long-term role in delivering the low carbon future needed to meet our climate targets," said Will Gardiner, chief executive officer of Drax. "The U.K. has some of the highest biomass sustainability requirements in the world and we are committed to working with the government and stakeholders to go further."
The International Energy Agency called "modern bioenergy" a blind spot of the renewable world even though it accounted for half of all clean energy consumed in 2017. Only bioenergy that reduces life-cycle greenhouse gas emissions while avoiding social, environmental and economic impacts should have a role in a clean energy system, it said.