U.K. Third-Quarter Growth Revised Higher 
The U.K. economy grew more strongly than previously estimated in the third quarter on the back of the dominant services sector, figures published Friday showed.
Gross domestic product rose 0.4% instead of 0.3%, the Office for National Statistics said. Economists had expected growth to remain unrevised.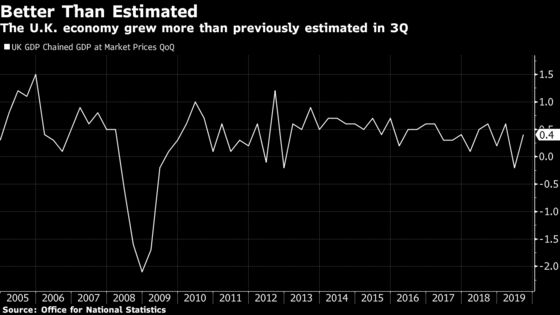 It means Britain easily avoided a recession after a hangover from stockbuilding ahead of the original March 29 Brexit deadline caused output to fall in the second quarter.
However, growth remains relatively subdued, with the economy expanding just 1.1% from a year earlier -- the weakest annual pace since the start of 2018.
Monthly figures show output last grew in July as Brexit fears and the global slowdown weigh on investment, and surveys point to a loss of momentum in the final months of the year. Economists expect growth to slow to just 0.1% in the fourth quarter, putting Britain on course for its worst performance since the financial crisis.
Boris Johnson's election victory means Britain is set to leave the European Union on Jan. 31. But hopes that this might bring certainty to businesses and consumers were quickly dashed when the prime minister raised the prospect of a disruptive Brexit at the end of next year if no trade deal with the EU is reached.
Separate figures showed the current-account deficit narrowed sharply in the third quarter. Government borrowing meanwhile edged higher in November.
The services sector grew 0.5% rather than 0.4% previously estimated. Manufacturing rose 0.1% and construction gained 1.2%
Business investment was unchanged and government spending fell 0.6% but the economy got some help from consumer spending, which rose 0.3% on the quarter
Net trade boosted the economy, helping to offset the drag from stocks as firms cut inventories by almost 7 billion pounds
The current-account deficit narrowed to 15.9 billion pounds, or 2.8% of GDP, the smallest share of the economy since 2012
Trade deficit narrows to just 410 million pounds, the least since 1998, as exports of goods and services jump 8%; shortfall on investment income widens to 8.2 billion pounds
Budget deficit in November widened slightly to 5.6 billion pounds. Shortfall in first eight months of fiscal year was 50.9 billion pounds, 11% higher than in the same period of 2018
Real disposable income fell 0.5% in the third quarter; rose 0.9% from a year earlier
Households saved 5.4% of their income, down on the second quarter but a comfortable enough margin to weather any downturn
Households were net lenders in the quarter, meaning they spent and invested less than they received
GDP growth in 2018 revised to 1.3% from 1.4% after downward revision to final quarter