U.K. to 'Cautiously' Ease Lockdown as Vaccine Drive Accelerates
The U.K. government will take a "cautious" approach to easing lockdown, with restrictions lifted every few weeks to judge the impact, despite a significant acceleration of its Covid-19 vaccination program, a senior minister said.
Health Secretary Matt Hancock urged people to keep following the rules even when vaccinated, after the government announced that all adults will be offered a shot by the end of July and everyone over 50 by mid-April.
Prime Minister Boris Johnson will hold a meeting with his senior ministers on Sunday to sign off on plans for how to ease England's lockdown, ahead of a statement to Parliament on Monday. He's said reopening schools will be the priority -- from March 8, depending on infection data -- and he wants any relaxation to be "irreversible."
One in three U.K. adults have had a vaccine as of Sunday, Hancock told the BBC, making Britain a world leader in Covid vaccinations. The success of the program contrasts with the government's failure to contain the initial outbreak and spread of Covid-19. The U.K. now has Europe's highest death toll of more than 120,000.
England is more than a month into a third national lockdown with schools closed and most businesses shuttered. With the economy suffering its worst recession in more than 300 years and cases and deaths falling rapidly, Johnson is under growing pressure to lift lockdown curbs -- not least from his own Conservative backbenchers.
Ministers had originally said they were working to offer vaccinations to all adults by September and to all over-50s by May. Hancock told Sky News that while he understood everyone wanted to "get back to normal," it was "right to be cautious, it is incredibly important."
The vaccination program would "take time to be able to reach all people who have significant vulnerability, especially because we need to get the second jab to everybody," Hancock said. There will be a period of "a few weeks" between relaxing restrictions for different sectors so the data can be analyzed, he told Times Radio.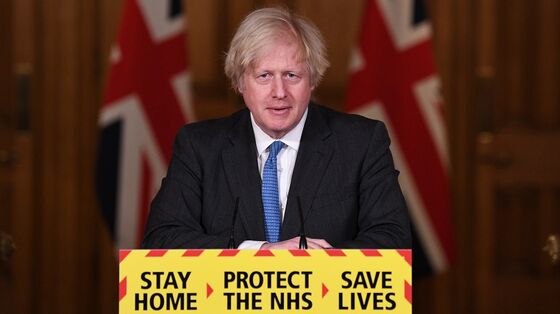 Cases surged to record levels in Britain early this year as an easing of social distancing during the holiday period coincided with the spread of the highly infectious U.K. variant of the virus. The latest lockdown, coupled with the vaccine program, has reversed that trend.
Health authorities reported 10,406 new cases on Saturday, down from the peak week in January when cases averaged almost 60,000 a day. Hancock told the BBC that cases of both the South African and Brazilian variants were falling in the U.K., thanks to "enhanced contact tracing and the measures at the border."
The government has yet to outline how it will roll out vaccinations to the under-50s and whether it will stick to age as the dominant criteria or prioritize other groups, such as critical workers, including police, firefighters and teachers.
Hancock said he wanted "personal responsibility" to play a bigger role in the coming months as an increasing proportion of the population is vaccinated.
"We will wrestle Covid to the point where it is a disease like flu that we have to deal with, we have to live with," he told Times Radio.