U.K. Energy Suppliers May Face Stricter Rules Following Crisis
(Bloomberg) -- The U.K.'s energy regulator said it may impose stricter capital requirements for gas and power suppliers after almost two dozen companies collapsed since August in the wake of soaring prices.
The surge in wholesale rates to levels almost four times higher than usual for this time of year has wreaked havoc on the energy retail sector. Many of those going out of business were partially or totally unhedged, leaving them vulnerable when prices increased dramatically.
The retail market needs to adapt to high prices on a long-term basis, though "clear and sharp" rules are needed on how companies buy energy in advance to supply customers, Ofgem Chief Executive Officer Jonathan Brearley said.
"I don't see necessarily that this goes away and we carry on as before," he told a panel of lawmakers on Tuesday. "We will be in a different reality and we need to make sure the sector is resilient."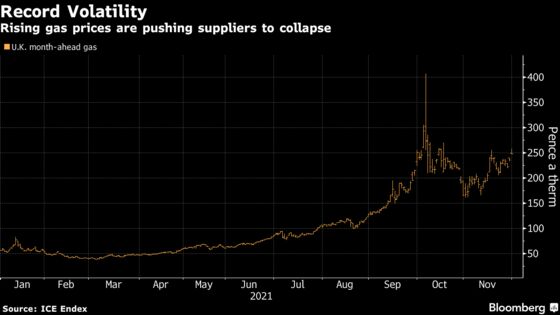 The government insists that the tools they have to manage the disruption caused by so many bankruptcies are working. But the number of companies collapsing is mounting and some industry bosses expect just a handful of suppliers to be left by April. Questions are also being raised as to whether companies should be allowed to be so unhedged.
"Your commercial strategy is your own -- how much you want to hedge and how much risk you want to take," Brearley said. "If you take that risk you will need to have the capital available to underpin a wide range of scenarios."
In a House of Lords committee on Tuesday, U.K. Energy and Climate Change Minister Greg Hands showed little sympathy for suppliers that hadn't hedged enough to survive the wholesale price spikes. Ofgem's price cap limits how much suppliers can charge households on variable tariffs. 
"I would have expected energy suppliers to be properly hedged," he said. "Those companies should have seen what the rules of the market were going into the rise in prices."
The costs associated with the collapse of 23 suppliers stand at about 3.2 billion pounds ($4.3 billion), according to analysis by Investec Bank Plc. Consumers will have to foot the bill which equates to about 120 pounds a household, on top of the increase in wholesale natural gas and power prices that will be passed on as well.
Ofgem is focusing on how to adapt in the future rather than studying what was wrong with the previous rules, Brearley said. The regulator was in the midst of reviewing rules when the energy price crisis hit.
"We need to go much further and we need to do that quickly," he said.